In this article, we will be providing you with the best 5 WordPress Age Verification Plugins to help you add an age-gate to your website.
If you need to add an age check gate to your WordPress website, then you are in the right place. Using a pre-built WordPress age verification plugin is a simple way to action this as opposed to writing custom code. Although age verification systems are not essentially required by law in most jurisdictions, a lot of businesses dealing in age-sensitive industries choose to use an age gate to control the age of their visitors. These tend to be industries such as alcohol, tobacco, gambling and various others.
So let's dive into it!
The Best WordPress Age Verification Plugins in 2021
1. Age Gate


Age Gate is a fantastic plugin with a great list of features. We always tend to favour the authors of plugins that have very frequent updates.
Why is the plugin so great? Well, the plugin excludes search engine crawlers and bots so that they do not run into any issues when crawling your website. Other than that, it offers great flexibility allowing you to:
Choose between restricting your entire site or just specific content
Add an age-gate specifically to your registration forms
Allow users to input their age via three different methods (Has simple yes/no option)
Add an optional "remember me" box that users can check to avoid future age checks
Exclude logged-in users from age checks
SEO Friendly – common bots and crawlers are omitted from age checks
In addition to this, it also allows full customisation such as adding your logo and customising all the text that appears. On top of that, the default styling offers quite a nice modern design. It even offers the ability to switch over to a JavaScript triggered version. This essentially means that you can bypass your host of plugins cache, awesome right?
2. Dispensary Age Verification


Technically, the Dispensary Age Verification plugin is an add-on for the WP Dispensary plugin. However, you don't need to use the core plugin to use this add-on.
What is great about this plugin is that it is super lightweight, quite flexible and it's a simple age-gate you can apply to your whole website. It will show the age-gate regardless of which page on your website that you first visit. If that all sounds good, you can also adjust the design through the WordPress Customizer.
Once you activate the plugin, you can head over to Appearance → Customize → Age Verification, and within here you can set up the following:
Logo
Title
Message
Minimum Age
Using the WordPress Customizer to make changes
Using the WordPress Customizer to make changes
The great thing about being able to edit via the WordPress Customizer is that you can view your changes in real-time. This plugin offers a very quick and efficient setup, what more could you ask for.
3. AgeVerify


The AgeVerify plugin isn't a light-weight as the rest, the reason for this is that this plugin offers various templates which can match a variety of use cases.
The downside to this plugin is that the free version supports ads. This basically means that if you want to remove the ads from the age verification gate, you will need to purchase the pro version which costs $59.
What could make this worthwhile is that it offers you great flexibility allowing you to set:
Custom cookie expirations
Custom redirect URLs
And the background images that it uses are a nice touch.
Having the banners doesn't really look that professional and doesn't help your website whatsoever. If you are willing to pay, then great, but from experience, the free option just doesn't cut it.
4. Age Verifier for WordPress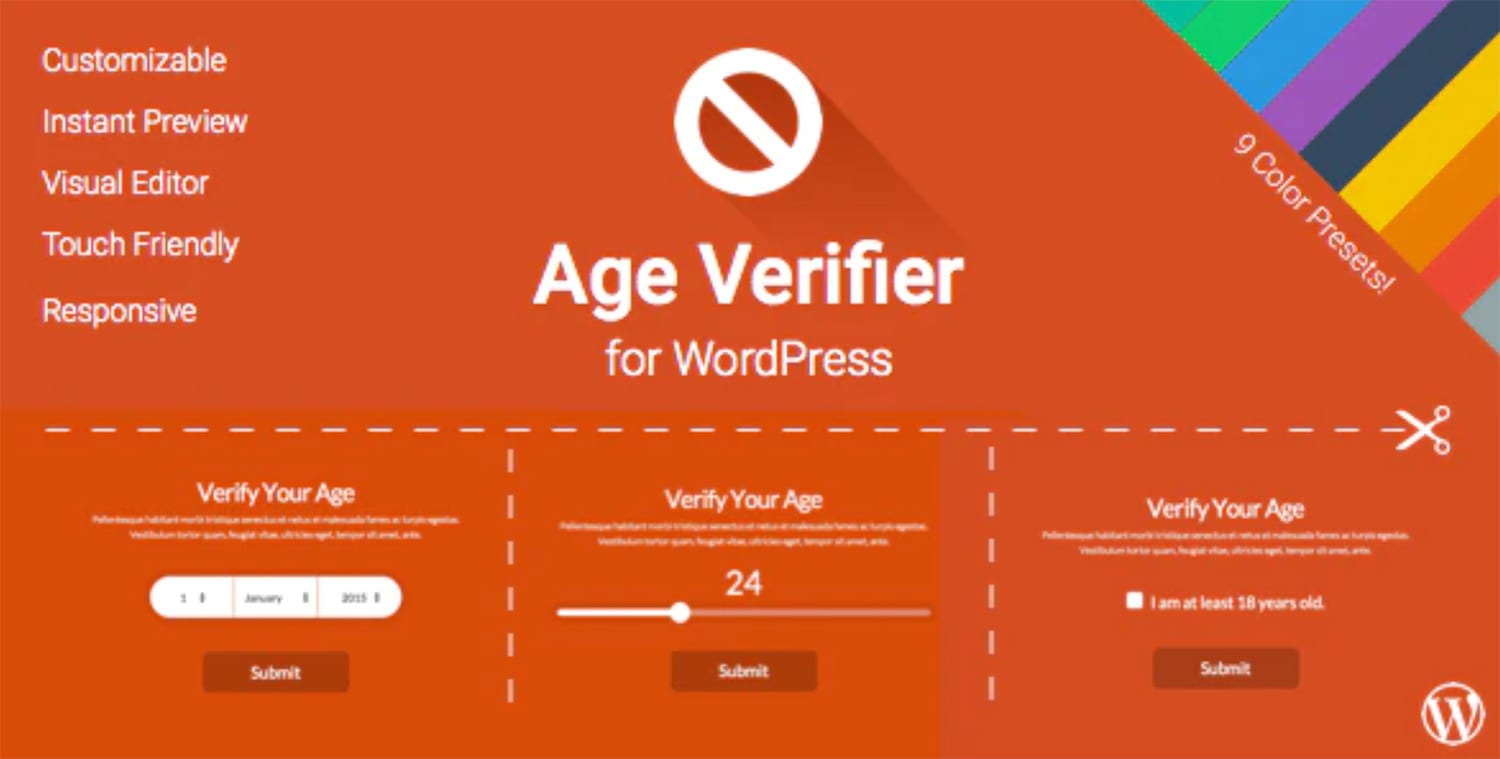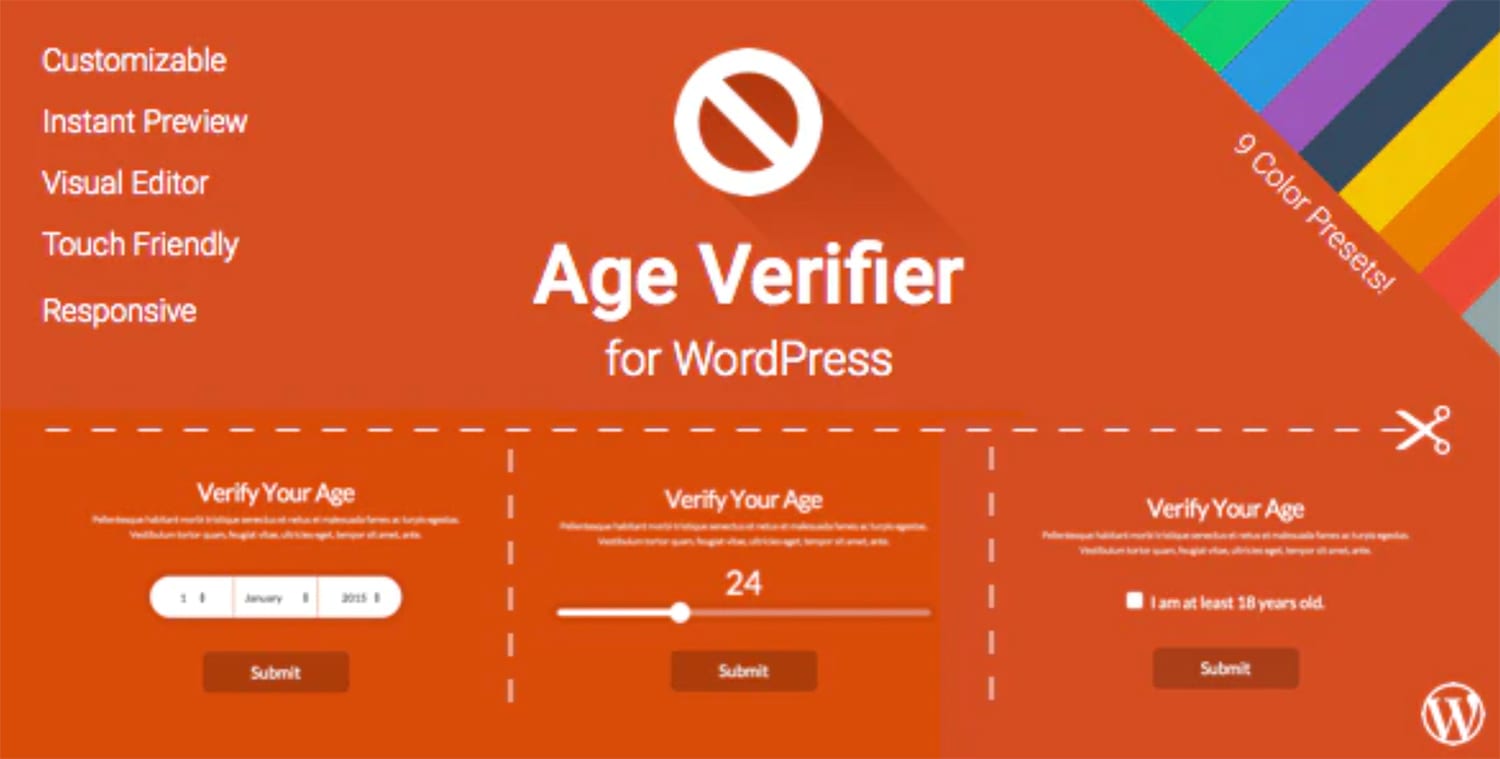 Age Verifier for WordPress doesn't offer any free version, unfortunately. However, for just $18 you should bear this in mind once you check out the plugin.
For just $18, you can get some pretty clean and modern designs along with a very helpful visual builder to customise the appearance of the age-gate. You can even select different verification methods as well as defining how long the cookie should last.
Another great feature is that you can add animation effects for when the age-gate appears. In all honestly, though, the core functionality doesn't offer that much more than the free plugins we have mentioned previously.
The question is if you are willing to pay $18 to make your age-gate look more attractive without having to add some custom code, then it's a no brainer really. If not, then the other free plugin suggestions would definitely suffice.
5. Age Checker
The Age Checker for WordPress is another premium plugin you can choose from. It's the same price as the previous one at $18 and it offers a few unique features that the other plugins above don't offer.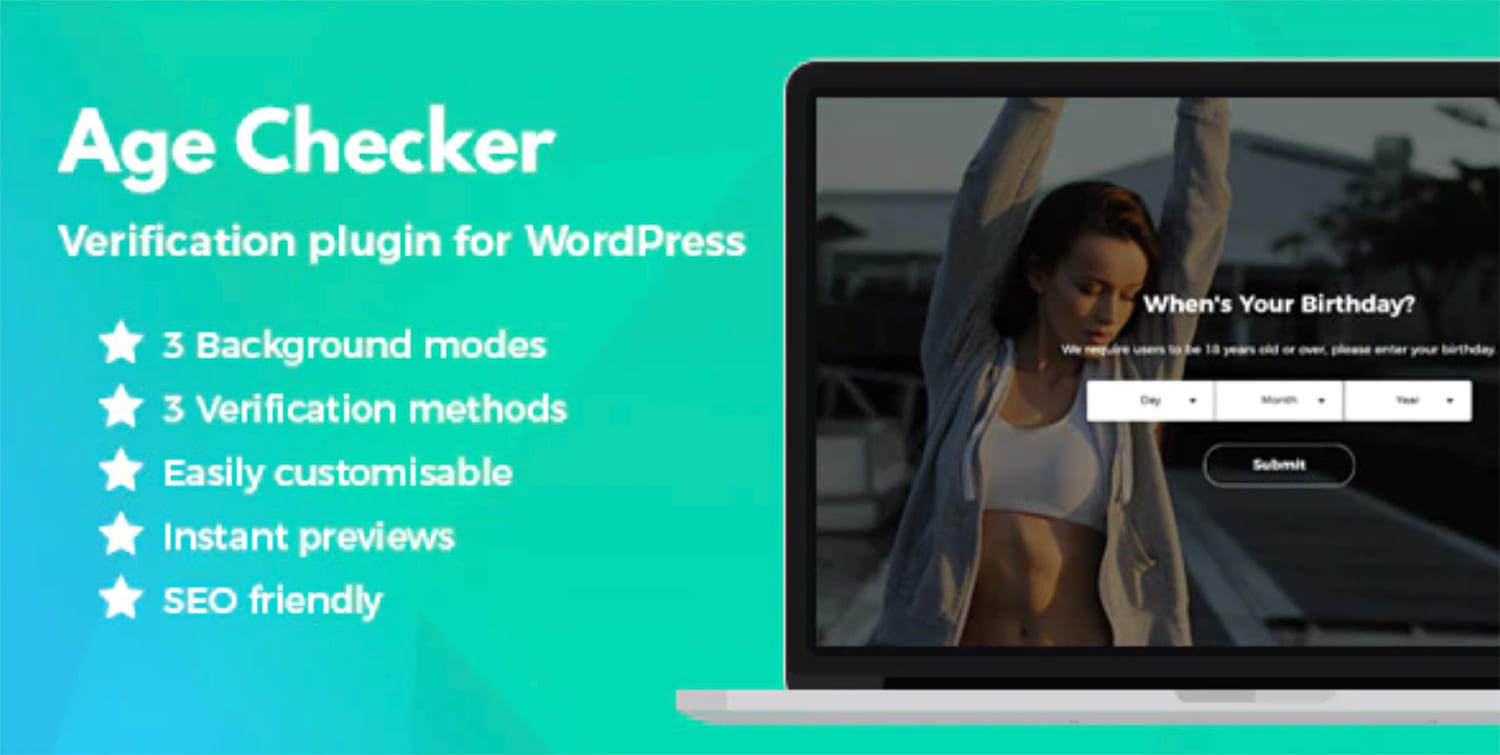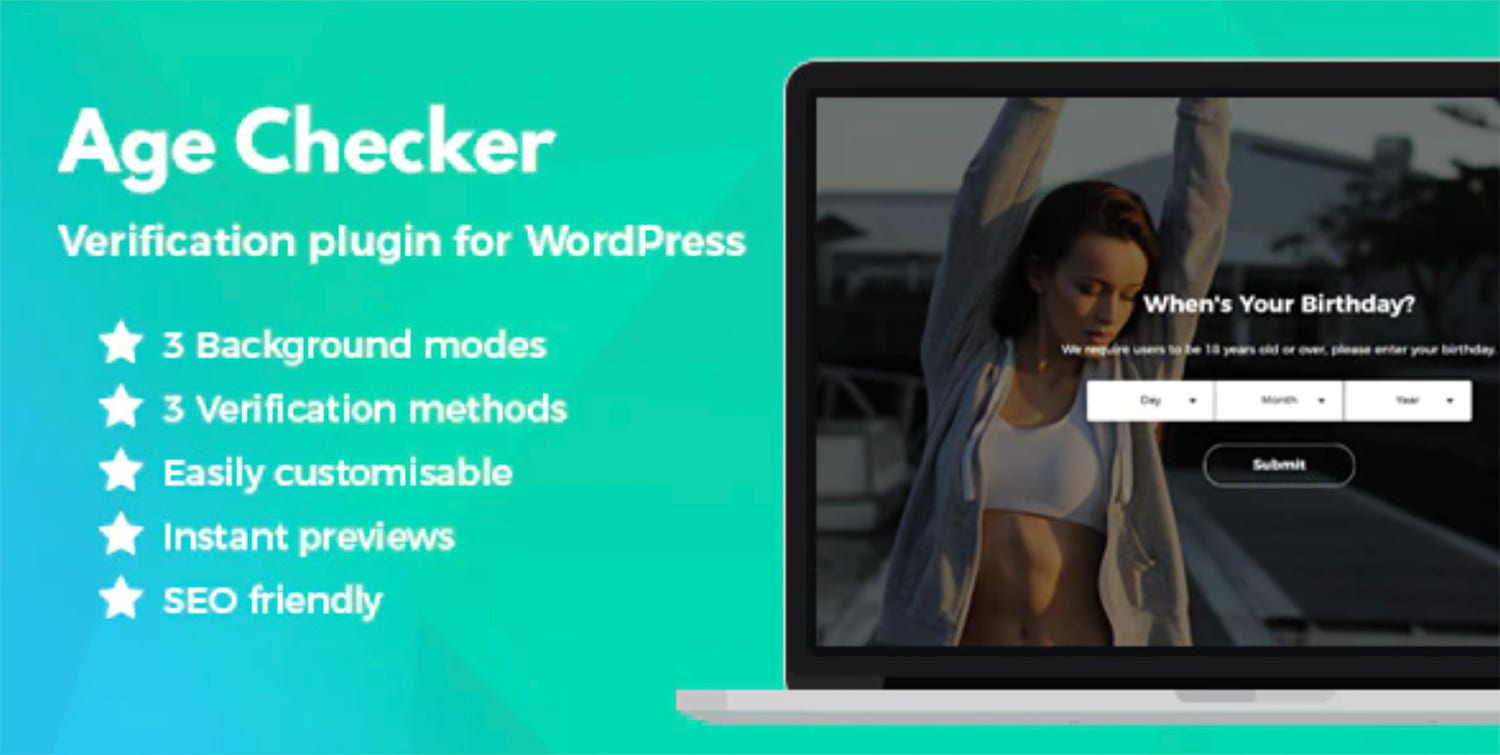 What this plugin offers is 3 different background modes, either a solid colour, image or video. Whilst some of the other plugins offer a date of birth as an option, one of the unique features about this plugin is to have a simple checkbox or enter your verification method. If you are looking for a simple verification like having a button to confirm they are over the required age then this works a treat.
You can also redirect users, change the form validation text and the life of the cookie. Crawlers can be omitted from age verification to ensure it doesn't effect the SEO of your website.
Lets conclude…
Which WordPress Age Verification Plugin Should You Choose?
Overall, the Age Gate plugin for us is the best. It has the best combination of functionality and styling. The other thing it lacks is the track record of well-reviewed options like the Age Verifier for WordPress. Dispensary Age Verification also provides a nice lightweight solution, though it doesn't offer the same depth of functionality as the other plugins.
Well, we hope this article helps you decide which Age Verification plugin is the best, depending on your website and your programming knowledge, one plugin could be the best fit for one website, and another plugin for another.
You can even create your own Age Gate verification plugin quite easily if you have the programming knowledge.
Let us know in the comments below as to which your favourite Age Verification plugin is!