If you are wanting to export a navigation menu from one WordPress website to another, then you are in the right place. Maybe you are wanting to duplicate a menu to make it easier to re-create a similar type of menu? Well, we got this covered in this post as well.
Unfortunately, the default WordPress import/export feature only allows you to transfer the menu as part of the full site transfer, you can't just do this on its own.
In this post, we'll explain how you can easily import/export navigation menus in WordPress which will be a real time-saver!
Step 1. Export and Import Navigation Menus in WordPress
We found the best tool for the job is using the WPS Menu Exporter plugin. Once installed and activated you can now go to Tools » Export. You should now see an additional option to export just the Navigation Menu Items. This will include your menu and all the pages that are linked from your menu. If you have any posts in your menu, those will be includes along with any comments within them as well.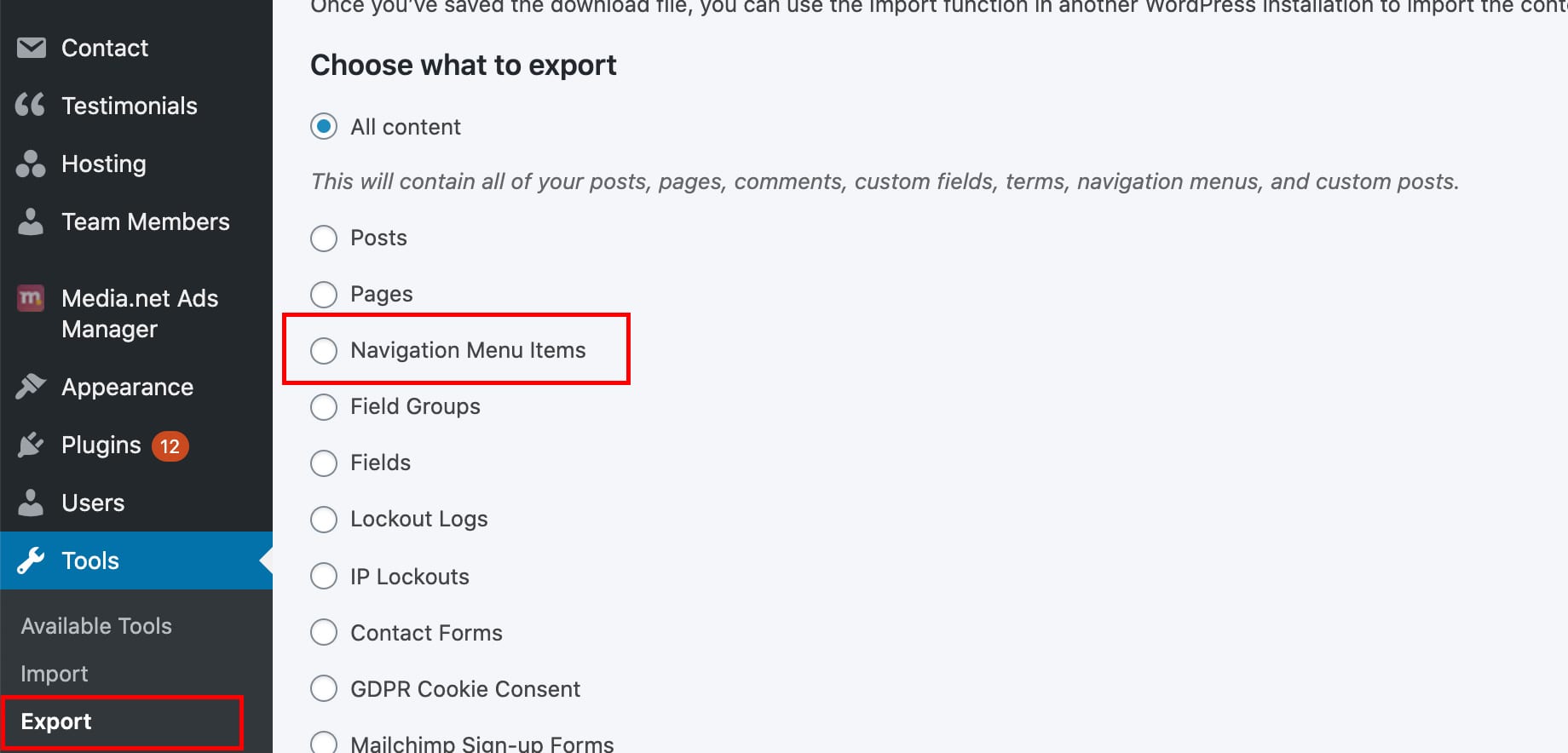 Select the Navigation Menu Items radio button and then click Download Export File button at the bottom.
This will create a download with just the menu to your computer which is stored as an XML file.
Step 2. Importing Your WordPress Menu to Your New Site
Now you can go to your new site and go to Tools » Import, select the file you exported in the previous step. If it's not already installed, you will have to install the WordPress importer. When you visit the page, it will show an option to Install Now.
Once you've installed the WordPress importer, you should see a Run Importer link in place of the Install Now link.
After you click on this link, you'll see the Import WordPress screen. Here, you'll need to click the Choose file button so you can select the .xml file you downloaded earlier.
Once you've selected your file, go ahead and click the Upload file and import button.
You'll then get a scrreen when you'll be asked to Assign Authors. The default option is to import the original author. Although, it makes more sense to select an existing Administrator user as the author of the imported content on the new website. To do this, just select the user from the dropdown menu.
If you plan to re-use the content of the pages themselves, then you'll also want to check the Download and import file attachments box. This means that images will be included in the import.
Once you're happy with your settings, click the Submit button at the bottom of the page.
Upon completion, you'll see a page where it says Import WordPress - All Done. Have Fun!.
You can now view your new menu you exported from your old website by going to Appearance » Menus
You can also click on the Pages tab in your WordPress dashboard to check out the new pages that have been imported along with the menu.
And that's it, pretty simple process right?
Duplicating a Menu
So this part isn't associated with the previous tutorial. This is simply if you are wanting to duplicate a menu on the same website. We've used this a bunch of times, especially when creating Header / Footer menus which are very similar, it's just a big time saver really.
For this, we use the Duplicate Menu plugin.
After you have installed and activated the plugin you can now go to Appearance » Duplicate Menu.
On the next page, you will have an option to select a menu you wish to duplicate, and then provide the new menu name as shown below: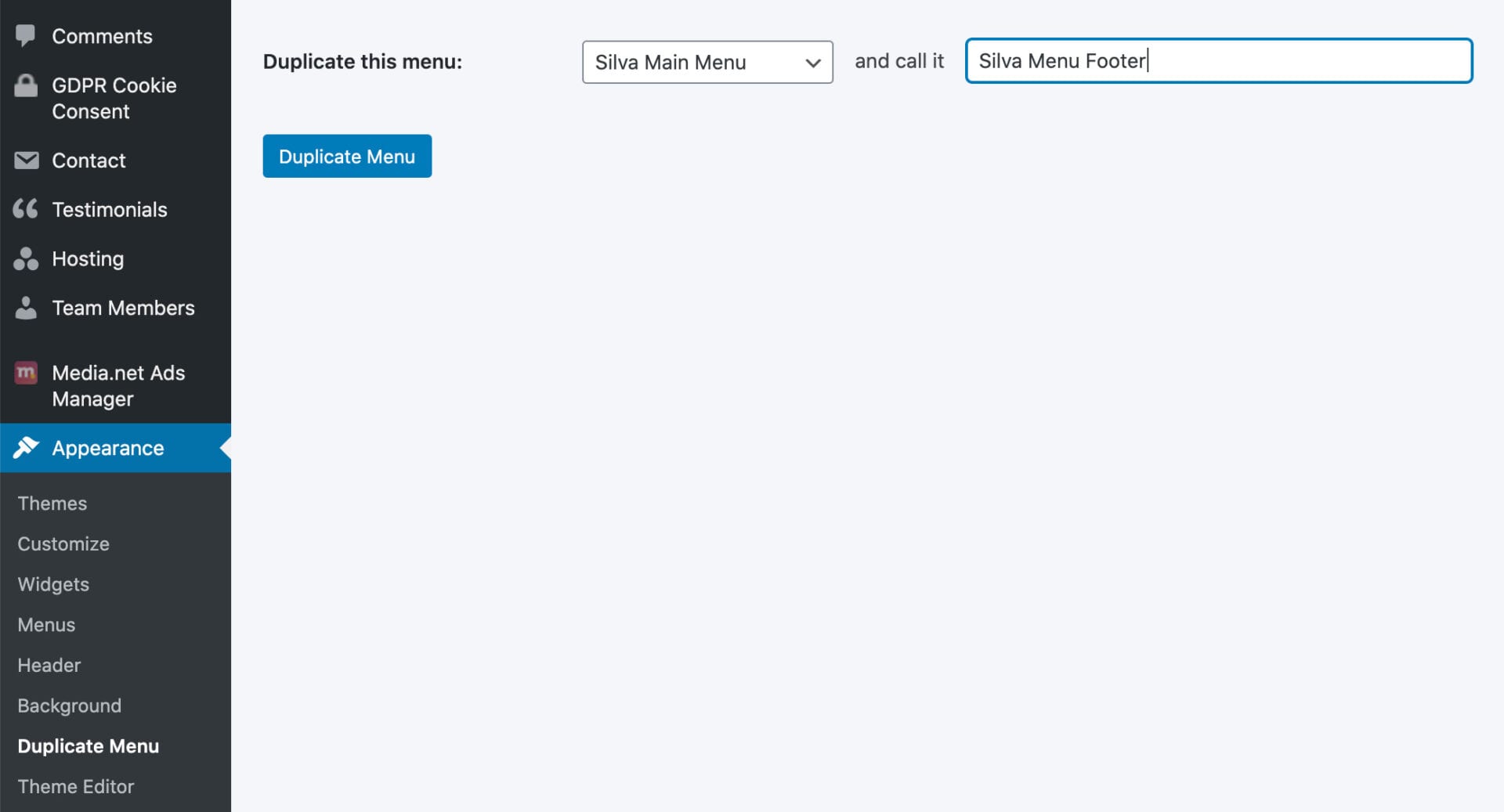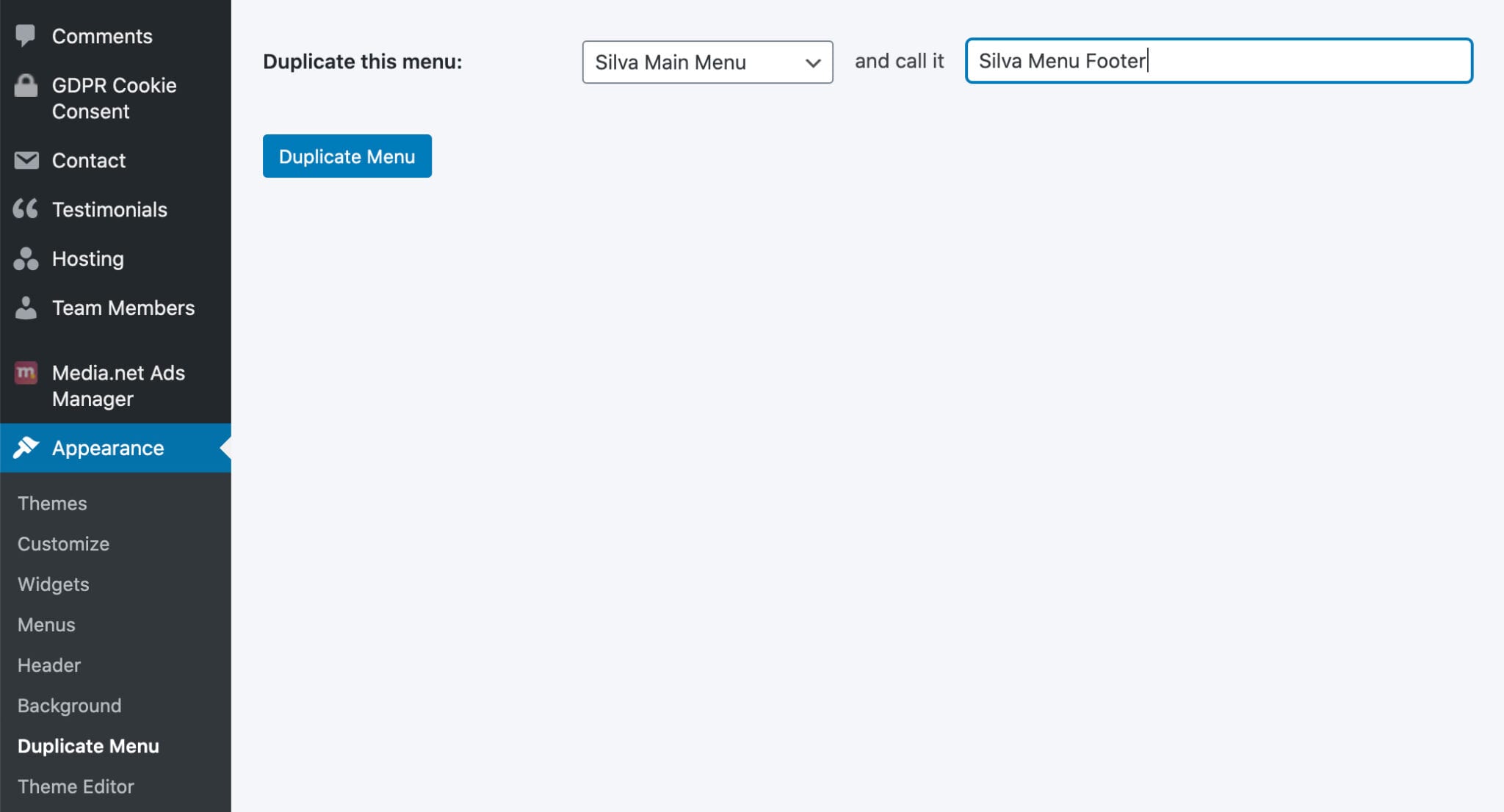 After clicking the Duplicate Menu button, your new menu will appear in Appearance » Menu with the new name you created. You can. now customise this to your exact needs. Very quick and simple right?
Well we hope you enjoyed this article, if you have any questions, feel free to get in touch or drop a comment below.