Cloud-based office software has been around for a good while now, with the two most popular suites being Microsoft Office and Google Drive with all of the document creation software that comes with both. Both make collaboration possible when working with a document, but neither is suited for project work meaning that you would need project management software.
Project management software allows teams of all sizes to work together in a much more organised way than scribbled notes, text messages and emails can ever provide. Even if you and your team are in the same room, project workflow becomes much easier if you are all able to see the same lists, notes and progress at the same time. This becomes especially useful when something is amended and everybody's work board updates in real-time.
Two of the best project moment software solutions on the market right now are Trello and Asana.
Trello vs. Asana: clash of the project management software giants
It can feel pretty overwhelming, trying to decide which project management software is going to be right for you, there is just so choice out there we are, well, spoilt for choice. Two of the most popular options are Asana and Trello, so we've limited this comparison to just these two guys in an effort to make things a little easier for you.
Nobody likes setting up multiple accounts on multiple platforms just to try and figure out which one is right for them, who does? Let's break these two down then, shall we?
Trello basics
According to Trello, the platform is "easy, free, flexible…". Based on a system of cards, boards and lists it really is a super simple way to organise your workflow in a very visual way.
Boards are at the top of your organisational tree, the home of your individual projects. To these boards, you can add lists (To Do, Doing, and Done for example). To the lists, you can add cards that can contain all kinds of information such as due dates, descriptions, checklists, images, labels etc.
Elements can be moved around using a very simple drag and drop so that you can organise everything as you need to, or as team members need to as tasks are picked up, completed or added.
How it all works
Even the free project management software account, Trello allows for the creation of as many project boards, lists and cards as you need – as the project progresses, so does your collection of board items. Individual tasks can be assigned to different members of your team, and you are also able to tag them in comments. This tagging feature allows you to provide live feedback and you are also able to tag clients too, provided they themselves use the Trello platform too.
This method of communication keeps everything together, on topic and helps to keep your inbox free of unnecessary clutter.
You are also able to fully customise your boards, perhaps with the main colour of your brand, logo enriched image (not for the free account)? A wide selection of stock background photo's are provided free from Unsplash. Labels can be customised too.
Introducing Power-Ups
Beyond the basic necessities, Trello also offers something they call Power-Ups. These add functionality to the project boards that you create.
Beyond its native functionalities, Trello also has Power-Ups available that add different functionalities to your boards. When it comes to project management software, these additions make Trello stand out when compared to most of the other project management software packages. There are lots to choose from too allowing the user to add custom fields, calendars, task automation and a lot more besides.
Trello is also compatible with services you may already be using, such as Google Drive, and it even integrates with Asana.
These additions are available on all account plans but you can only have one per project board if you are on the free plan.
Accessing Trello
No project management software package would be worthy of a second glance if it didn't allow access from more than a browser. Trello for instance, I am happy to report, is accessible via:
Web browser
Desktop app – PC & Mac
Mobile app – Android & iOS
This means that whatever your preference, wherever you happen to be, you are able to access the platform whenever you need to. Total access like this means you can review changes, requests, progress and respond to client tags as well as update with your own ideas or tasks for yourself or your team.
Pricing
The free account is likely enough for smaller teams and you as many project boards as you like which includes unlimited cards and lists as well as the ability to add as many team members as you need. Your only real limitations, in terms of getting things done, are attachments are limited to 10MB and you can only have one Power-Up per board.
Gold is $5 a month and includes everything the free plan does plus 3 Power-Ups per project board and customisable backgrounds. Gold can also be gained for free if you share it with others.
Business Class is $9.99 a month and includes everything the Gold plan does plus 250MB attachments and unlimited Power-Ups.
Here is an example of how a typical Trello board may look (there are so many ways to use it; yours could be quite different):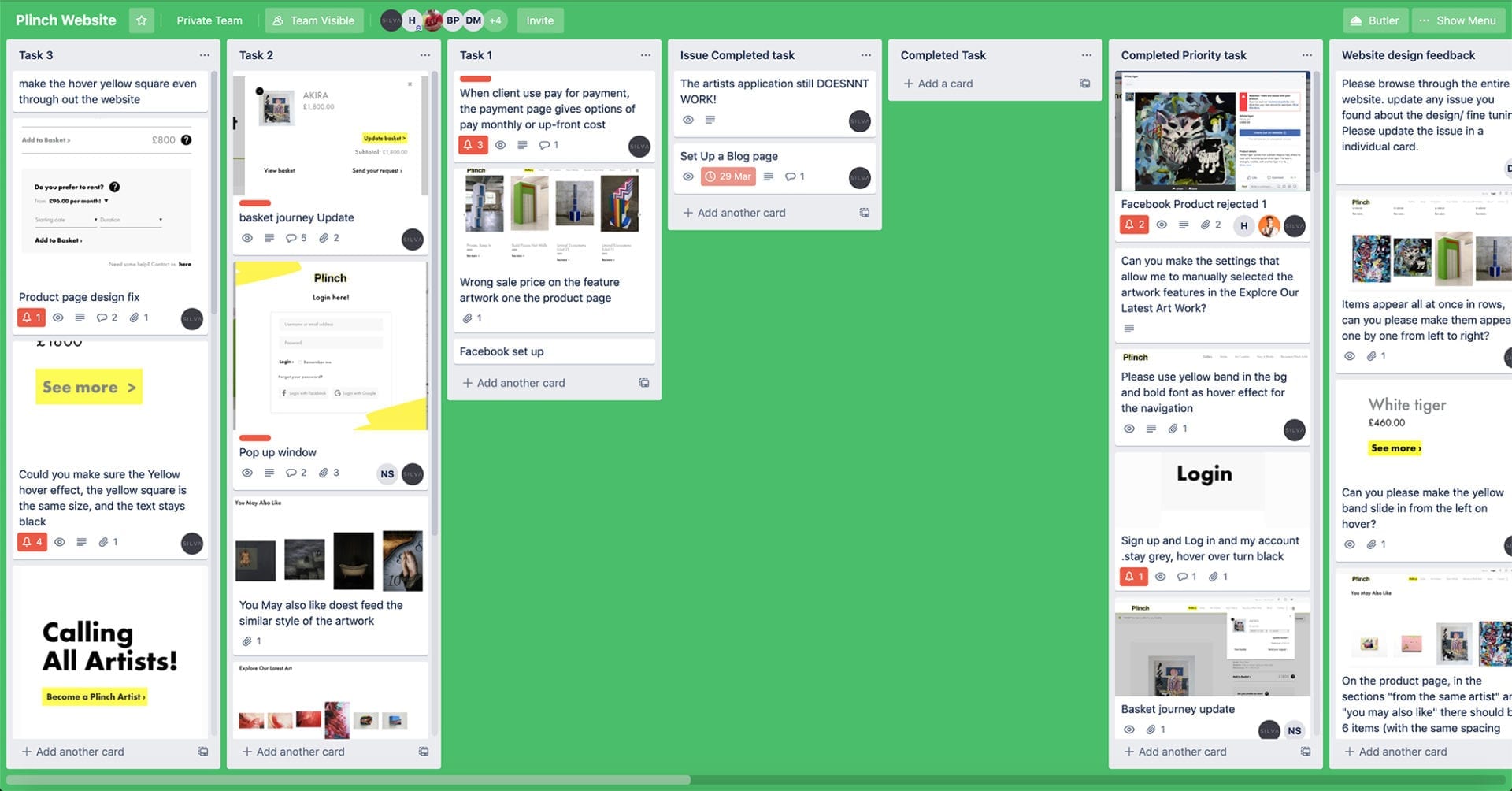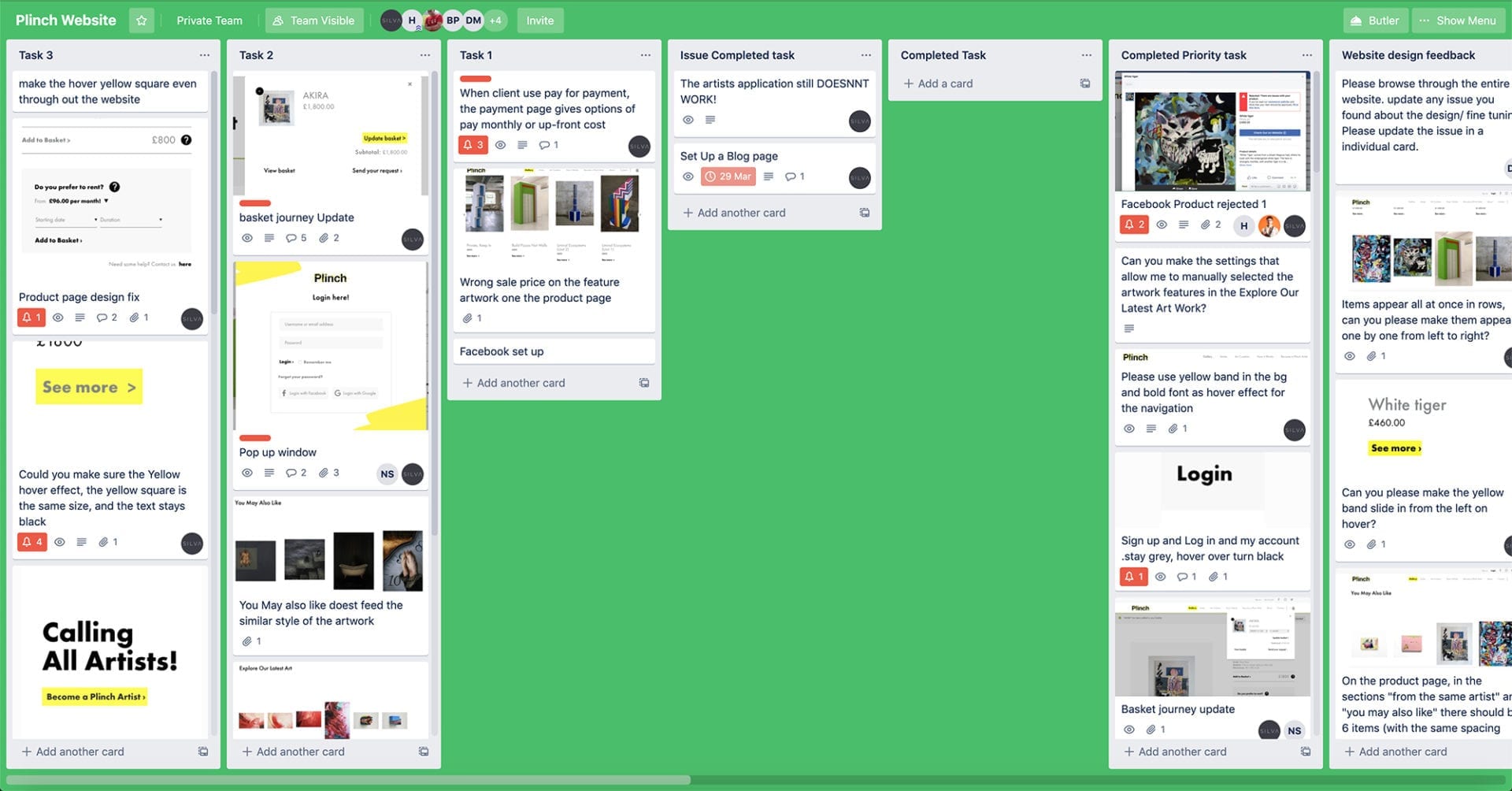 Asana basics
Asana is a project management software tool that, according to Asana, "helps you coordinate all the work your team does together". You are able to build up project boards using lists, tasks and calendars at every step of the project progression.
This package works in a very similar way to Trello, however, where it differs from Trello is that Asana has extra built-in sections for each of your project boards… including separate projects, calendars and file collation.
How it all works
Projects give you the ability to organise tasks that are related to a specific initiative, goal or work ideas into board or lists. Each project can be set up as either a board or a list and you can add specific tasks, subtasks and assign these to individual team members or groups. You are also able to assign descriptions, attachments and also due dates.
It is entirely your choice whether you opt for a task list or board, it's a personal preference more than anything but it can also partly depend on the type of project you and your team are engaged with. For example, if there are different steps in different parts of a project then a board may work better for you than a task list.
Integration possibilities
No project management software package is an all in one solution by itself, and as Trello has Power-Ups and can integrate with other applications, so Asana provides users with over 100 separate integrations. These allow you to collate files, emails, tickets and much more in one place. This makes it much easier to track tasks, projects and everything associated with much easier.
Accessing Asana
Just Trello, and most other reputable project management software packages, Asana is accessible no matter where you are – which is obviously a huge plus. You can access it via:
Mobile – Android & iOS
Web browser – PC & Mac
Tablet – Android, iOS & Windows (via the browser on Windows tablets)
A native desktop app is not available yet though, but the web app is still very versatile.
Pricing
Asana has a free plan available. Actually, Asana has over 3.2 million free activated accounts. With this option, you have access to unlimited tasks, conversations and projects. You only have basic search, dashboards and a maximum of 15 team members.
Asana's Premium plan is more costly than Trello, costing $9.99 a month per team member. This gets you everything in the free plan, of course, plus task dependencies, custom fields, a timeline feature, as many dashboards as you need, private projects and teams, admin controls and start dates.
Below, you can see an example of how we use Asana to manage some of our workloads:


Which one should you choose?
When all is said and done, whichever project management software package you choose, much of it is just personal preference.
Trello is very much a visual system while Asana is geared more toward a text-based environment. In terms of actual functionality, Trello offers much more on the free plan than Asana, while Asana's more useful features are only available on the premium plan.
However, Asana does provide more functionality for its boards while Trello's project boards are more basic. Depending on your actual needs, these different approaches could either be too basic, just enough, too much or just right. As I say, much of it is a personal preference.
It could be said that if you prefer a more post-it note approach and you don't need anything much beyond that type of layout, then Trello is for you. Should lists and slightly more complex project boards are your things than Asana is for you.
Here at Silva Web Design, when it comes to project management software, we prefer Asana. Don't let that cloud your judgement though, each option is an excellent one. Use this comparison as a guide however and you won't go wrong.