In this modern era, Technology plays a prominent role in all individual life. As a vital facet of Technology, Instagram is one of the most popular social networks globally. People strive to learn how to use Instagram in order to enhance their business and grow their pages.
Instagram brand monitoring is a quick way to help companies and influencers to know others' perceptions of their business. In this article, we are trying to clarify what Instagram brand monitoring is, how you can monitor your brand, and why it is important for enhancing your business.
What is brand monitoring?
Brand monitoring is a popular method to track everywhere that your brand is mentioned and has been discussed, by tracking specific keywords. As a result, you can analyse others' perceptions about your brand and schedule for your next move. Indeed, you are able to evaluate your customers' feedback and change negative responses into good ones just by knowing at the right time.
Who needs Instagram brand monitoring?
In 2020, because of the Covid-19 situation around the world, people spend most of their time in quarantine at home. Therefore, most people start their online business, and 75.3% of U.S. businesses will use Instagram in 2020. Thus, they have to be conscious of all potential customers and know they may lose their current customers by negative feedback. Instagram provides us with an excellent opportunity to communicate with your customers. Instagram brand monitoring enables you to know how people talk about your brand online on Instagram and lets you respond to them. Therefore, all businesses and influencers who run a business on Instagram need brand monitoring to achieve their goal more quickly.
Why is Instagram brand monitoring important?
When running a business on Instagram or a person with many followers or an influencer, you have to be aware of every tag, mention and post surrounding your product and brand to continue in the business world. It shows the real sentiment about your brand. Although you may don't agree with some of them, this awareness enables you to change the atmosphere in your brand's favour. If you lose these comments and don't answer them, your followers may think they are not important and satisfying decrease. On the other hand, receiving their comments and reply to them can increase their trust and show that you care about your followers' opinions.
When you know what people think about your brand, you can respond to them more accurately. It is not feasible except by using Instagram brand monitoring tools.
Instagram brand monitoring has some different impacts on your business and brand on Instagram. Here are some of the most important below;
Identify sells opportunity
Sometimes, people talk about a thing they are planning to do. By tracking their conversations with a certain keyword, you can find potential customers and change them to real customers.
A powerful tool for growing your business online. Instagram gets more and more competitive every day, so you must spend a considerable amount of time growing your brand and business. Reviewers comment on all the good and bad aspects of your brand. By using Instagram brand monitoring, you can use your time more effectively. How? By tracking all mentions and tags about your brand and responding to them as soon as possible. When you respond to them, you show your followers that they are important and increase your popularity.
Analyse your activity
By tracking the brand mentioning, you can analyse your growth and give insight into your current situation.
To put a word in a nutshell, you had better find a useful Instagram brand monitoring tool in order to organise your brand mention and know about your business situation every second.
In what follows, we are going to introduce the best Instagram brand monitoring tool.
1. AiSchedul
AiSchedul is an all in one Instagram content management tool that provides different excellent features to manage your Instagram account and your business.
What makes it even amazing is the ability to manage and even schedule posts for multiple accounts in one place.
The feature of Instagram brand monitoring would be discussed in this article.
For using AiSchedul's Instagram brand monitoring feature, first, you must create your own account on AiScedul then choose SCHEDULER from your dashboard and tap LISTENING & REPOST.
AiSchedul Instagram brand monitoring feature is a powerful Instagram feed and story scheduling platform that helps marketers, small business owners, and influencers. You can find relevant and exciting content for your Instagram feed or stories and repost with just a click. You can also track your competitors to know what they are doing.
AiSchedul Instagram brand monitoring feature has four different parts, and you can use each part of AiSchedul brand monitoring feature for various purposes that would be explained below;
In the hashtag monitoring part, you can add hashtags you are interested in tracking, save and repost trending posts, and see trending post suggestions. By seeing the trending post suggestion, I mean AiSchedul has suggestion tags based on your activity and allows you to add more hashtags by writing a keyword personality. After you type a keyword, AiSchedul suggests all hashtags about that keyword, and you can add whichever you want.
Moreover, AiSchedul shows all trending posts based on your keyword search and your hashtag organisationally. After that, you have two different options to do with each displayed post. First, you can choose to save it and use it in the future. Second, you can repost it directly on to your feed or your stories.
When you decide to repost a post and press the repost button, you can make any changes to the post, like add some hashtags if you want by tapping on add tags on the displayed.
After that, you can schedule the time for posting any time you want. In the end, it is enough to tap save.
AiSchedul account monitoring recommends some accounts to monitor. These accounts are some of our top picks. You can track them and repost their posts and stories. You can also add other accounts in addition to those that AiSchedul itself suggested. For this purpose, type the name and search. For example, if you're running a beauty account, you can follow influencers in that industry like Huda beauty or beauty companies like MAC Cosmetics colour. All the posts from that account update, and you can see them whenever you want.
You have two options again for each post: save it in your bucket or repost it directly to your feed or stories.
The mentions part shows you the posts and stories that your account has been mentioned in. You realise others' sentiments about your account, brand, or product.
Again you have different choices: view these posts, save or repost them, comment on them, and answer them.
As you can imply from the name of the saved media part, this part enables you to search for posts and stories you have saved in the monitoring tabs. All posts you have saved appear here. You can delete or repost them.
Notice that AiSchedul provides you with the ability to create different buckets and put each post in a specific bucket with a particular name that you choose.
You can start using AiSchedul brand monitoring by pricing below;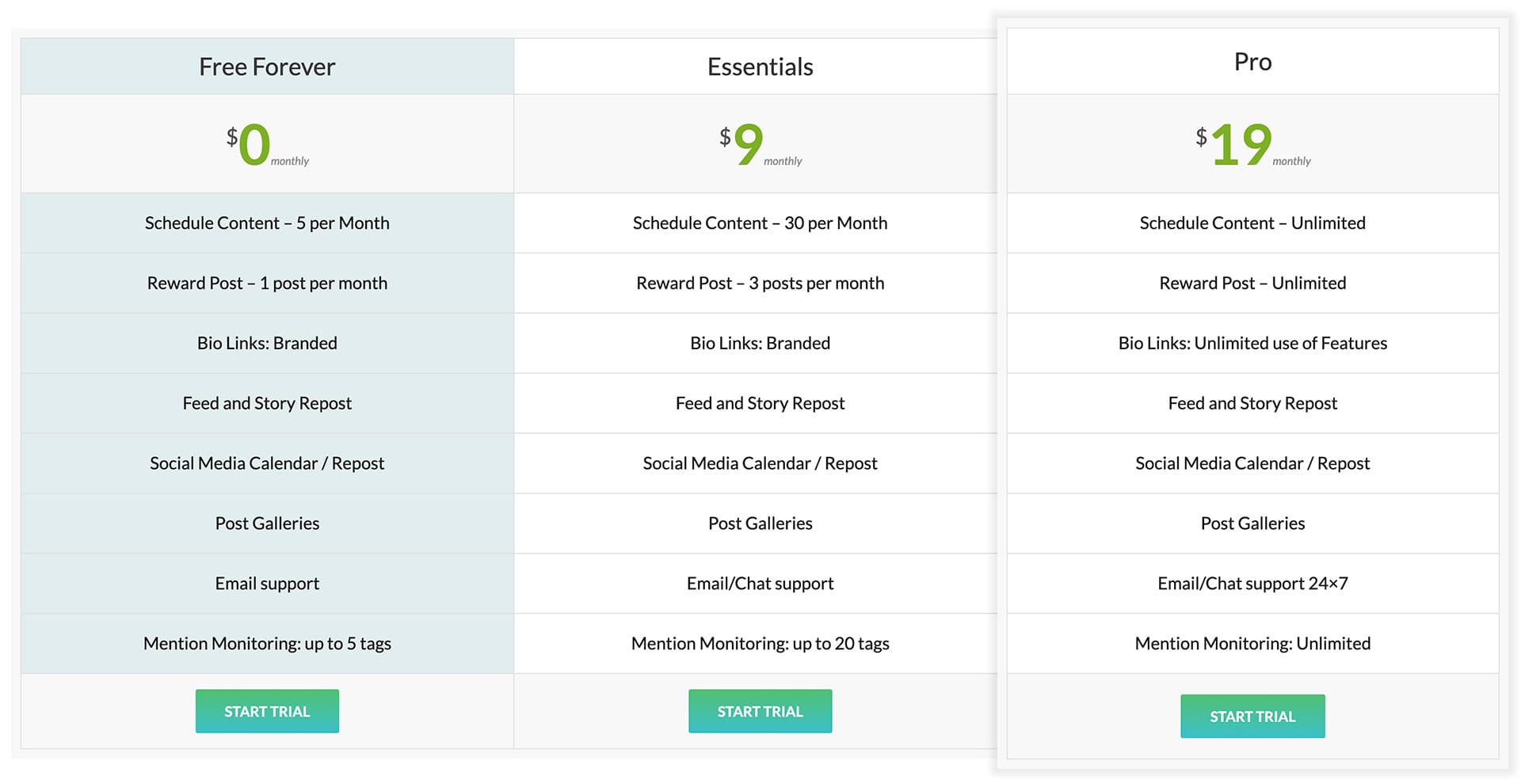 You can sign up for a free account here.
2. Awario
Awario enables you to track all mentions and hashtags of your brand, good or bad.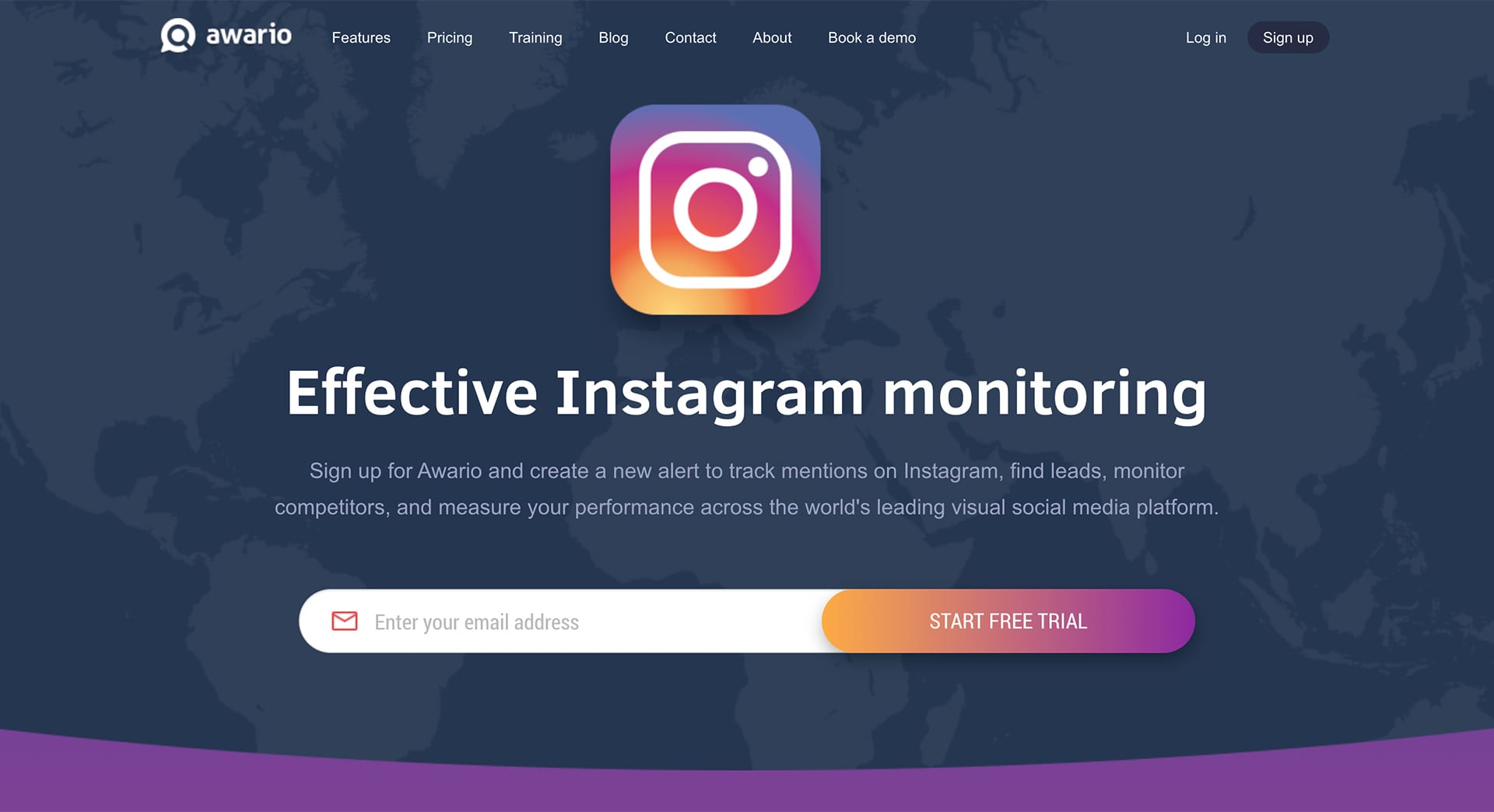 Moreover, Awario lets you track Influencers and contact with them, which helps you grow your brand. All these features are supported in AiScehdul too. Awario also has another feature in that you are able to track your progress on Instagram, such as stats on you mentions' volume.
With Awario you can use all these features by using different pricing packages, which you can see below;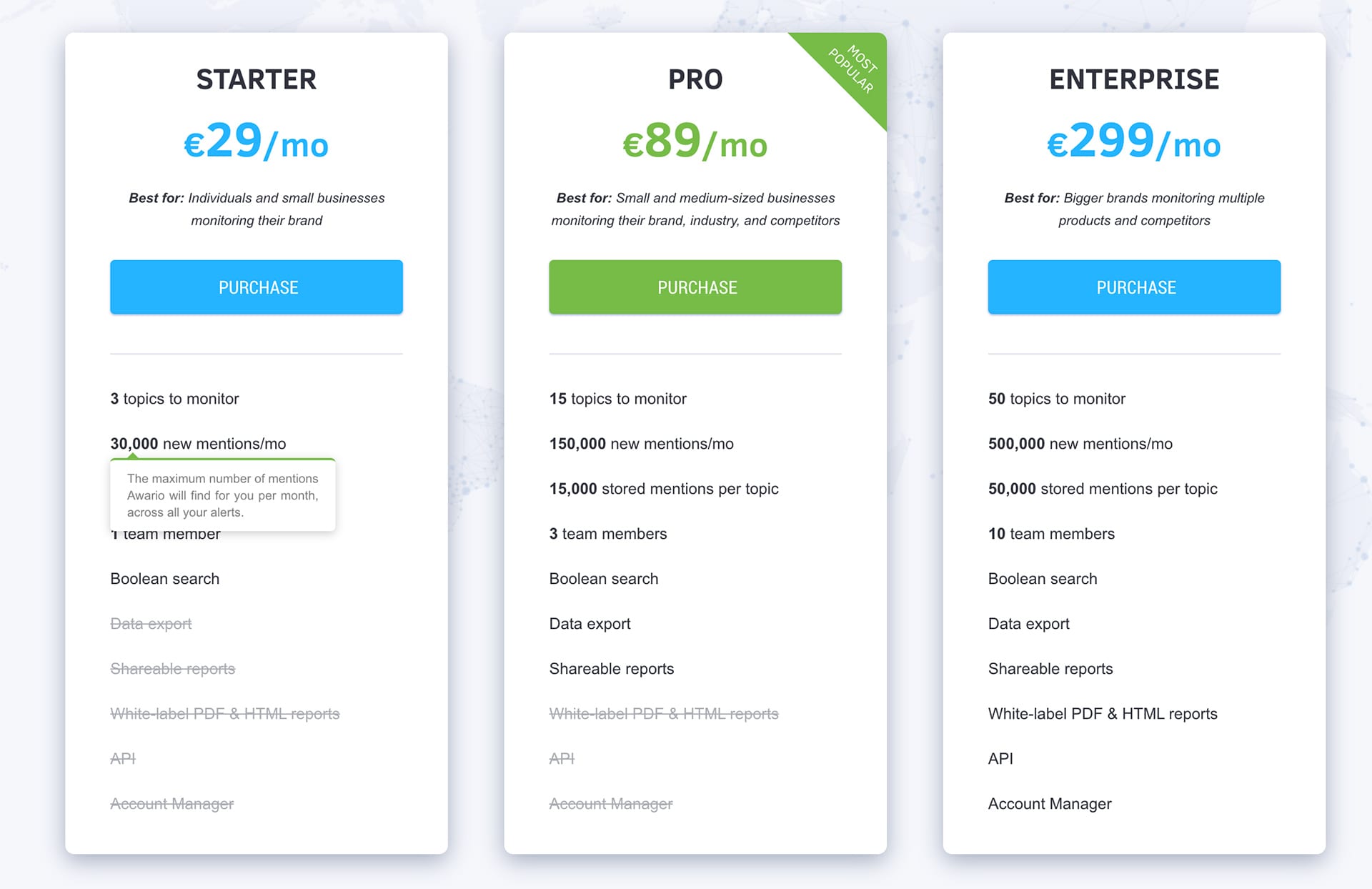 You can view the pricing here.
Consider that the enterprise package of Awario lets you monitor 50 topics; however, the AiSchedul allows you to monitor unlimited.
It would help if you also consider that AiSchedul recommends all these features with a tenth of the price; indeed, the Awario offers a ten-time price. As a result, the Awario Instagram brand monitoring price of all three packages is very high. Still, AiSchedul brand monitoring is affordable in all three available packages.
3. SEMrush
SEMrush offers various features: track your account mentions, check the influencers who mention your brand, filter your mentions, and sentiment analysis data. AiSchedul provides all these features in its AiSchedul Instagram brand monitoring tool.
To start using SEMrush brand monitoring service, you must choose one of the pricing packages below;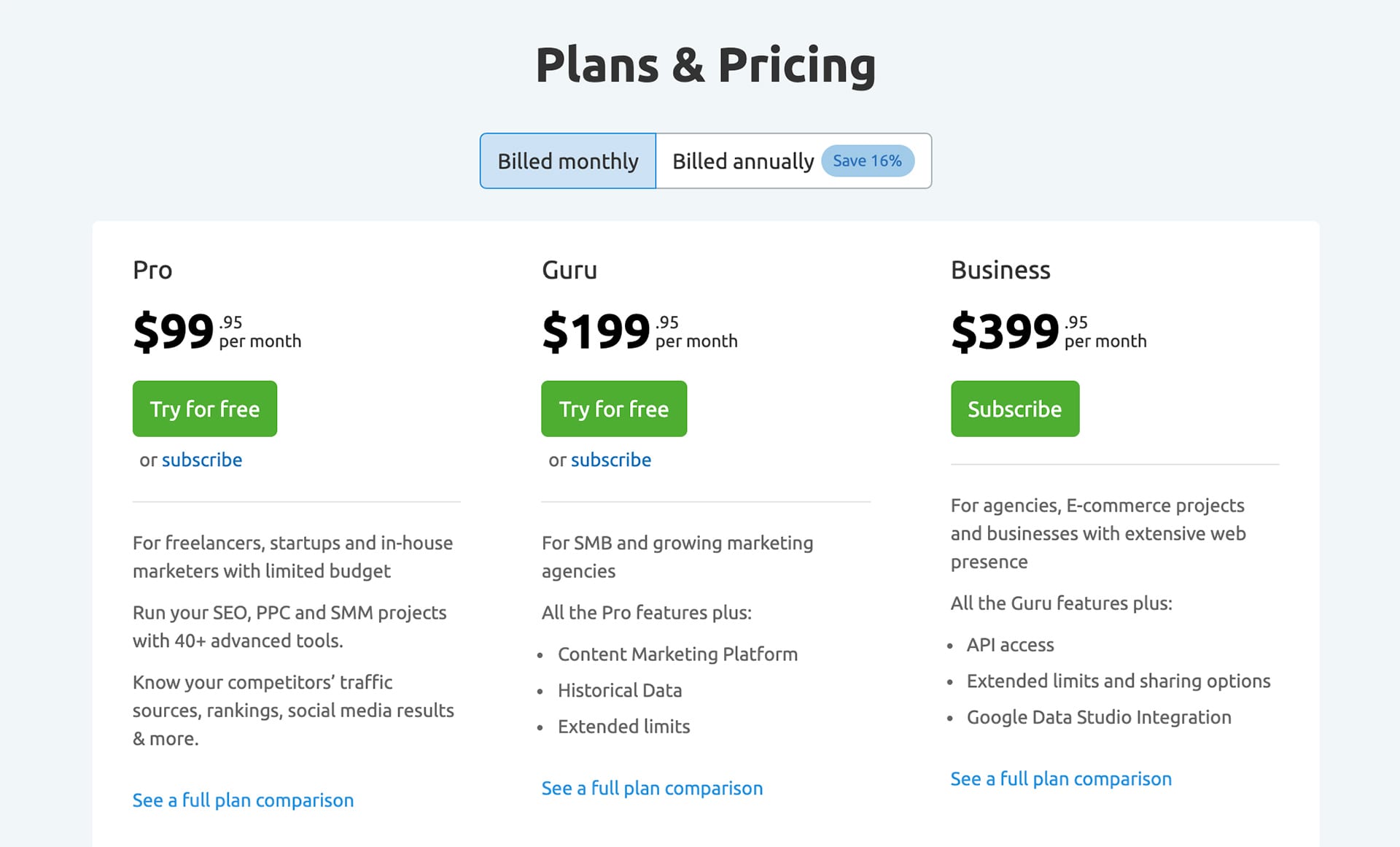 You can view the pricing here.
As you see, SEMrush pricing is even higher than awario pricing, which is not reasonable.
4. Mention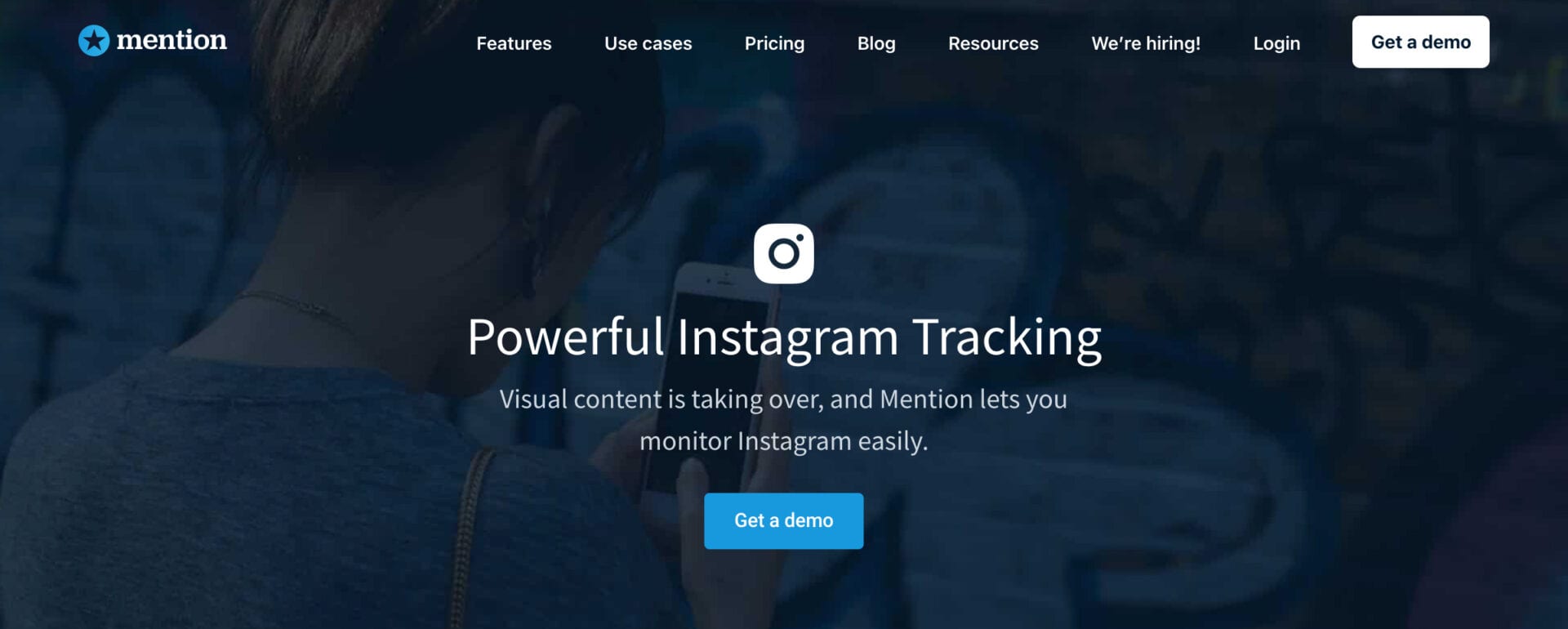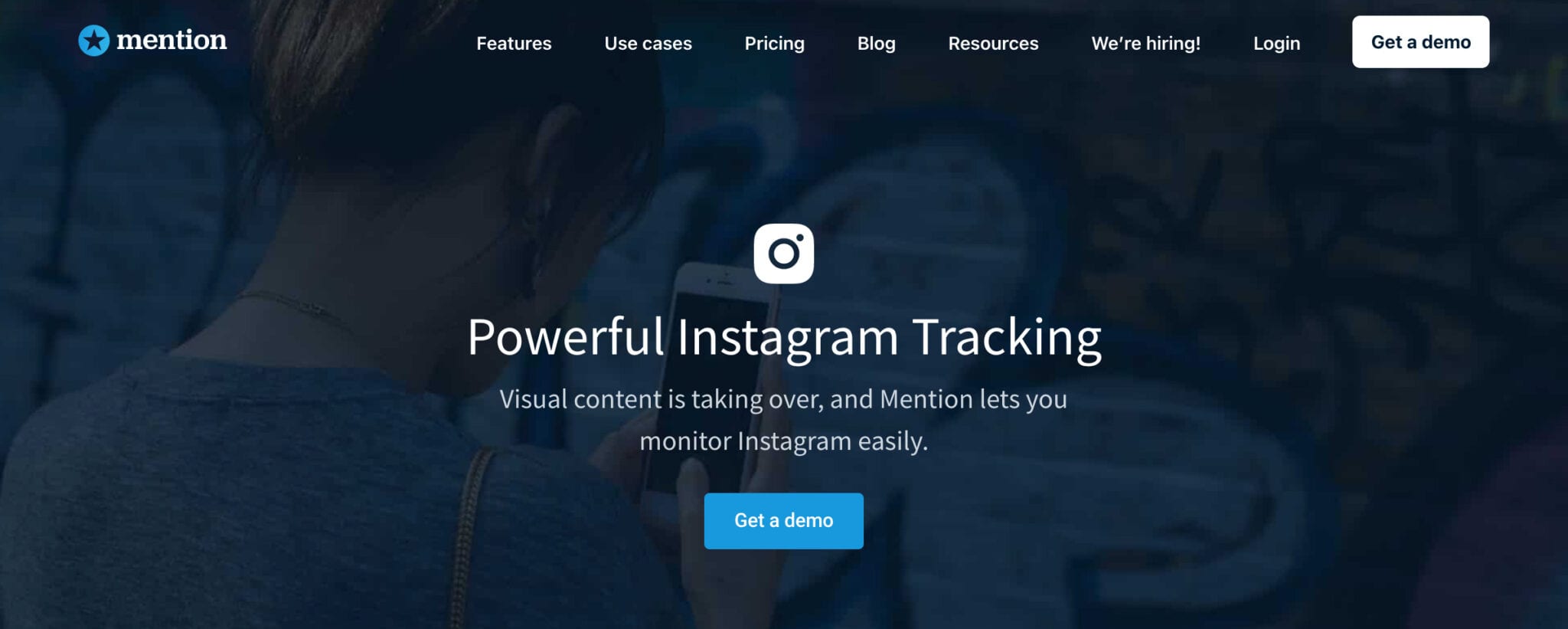 Mention supports the features mentioned above about the other Instagram brand monitoring tool that we are talking about; I mean mention offers to connect with influencers, shows you where you're mentioned, and monitor your favourite hashtags by pricing policy which is given below;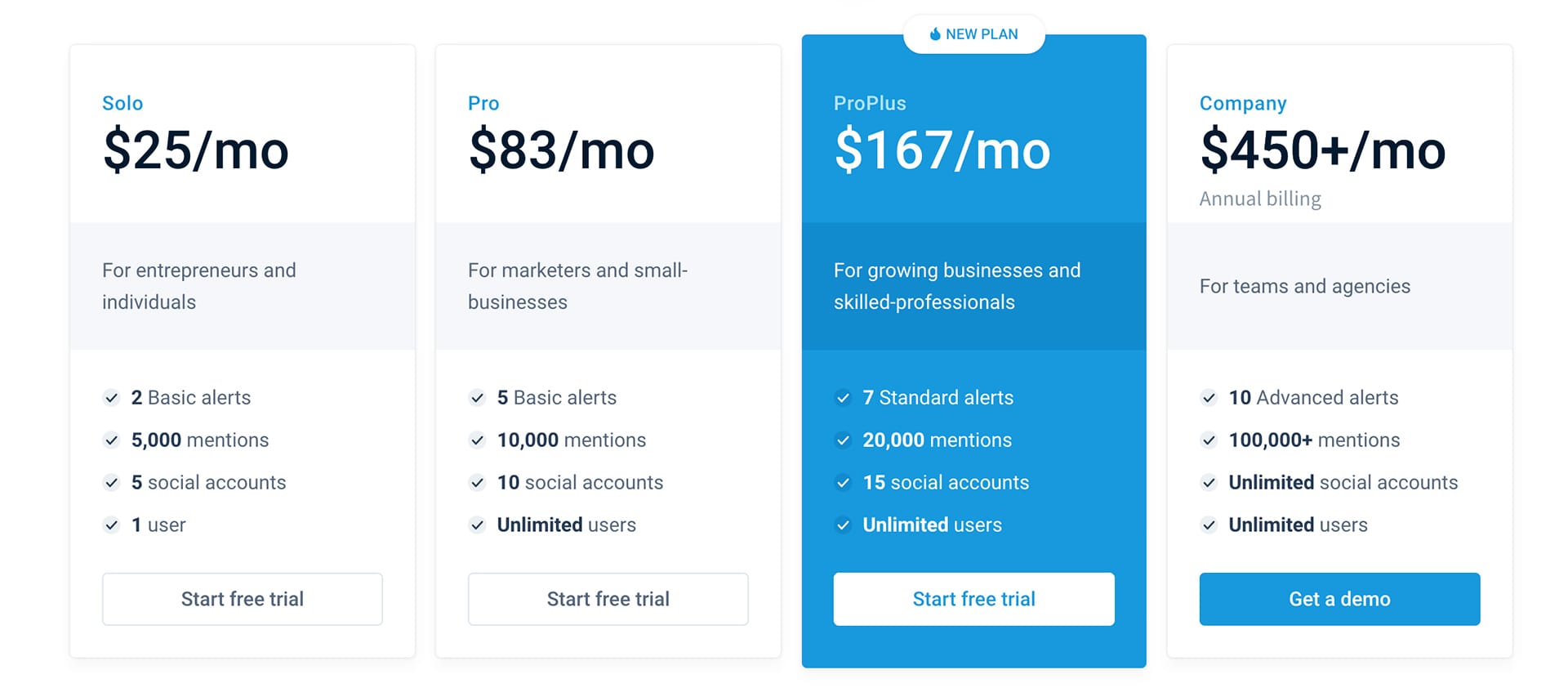 You can view the pricing here.
Don't forget that all these features, even more, are offered by AiSchedul at a much reasonable price.
Storyclash
Storyclash offers different features: monitor your brand mentions on Instagram, and report on Instagram activities and campaigns.
6. Instagram search engine
Instagram provides you with a situation in which you can monitor your brand mentions and also monitor hashtags. In this way, You can search your desired keywords and look at all posts using them. For this purpose, type keyword on the search box, and if you want to search hashtags, type your keyword with the # icon at the top of the page. On the Instagram app, by typing in the search tab on the explore page, you can type the keyword, and then choose between Instagram's options, which is given below;
Although the Instagram Search engine is totally free, working with it, searching, and finding the result is time-consuming, and also, you would lose some posts that are necessary for you to track.
If you run a small business you can use an Instagram app, but when you look at your brand as a serious job Instagram app is confusing; for example, reposting one post from the Instagram app is time-consuming. Wile, using AiSchedul brand monitoring enables you to repost easily and allows you to add hashtags and schedule to repost in the future. You do it just by pressing the repost button and make everything much more manageable.
Some other social media monitoring tools exist, such as Hootsuite, HubSpot, SproutSocial, SocialMention, Zoho Social, etc. Although they are influential in Instagram brand monitoring, they all support different platforms, and they are not working on Instagram specifically. However, AiSchedul focuses on Instagram brand monitoring; thus, you pay for what you need.
Final thought
We hope this article clarifies how you can monitor your brand and how important it is for your brand growth. If I were you, I would definitely choose the AiSchedul Instagram brand monitoring tool because it provides you with all these great features mentioned before and offers all these features at an affordable price. You can use it now; check the link below out.