If you've ever wondered what to put on your Insta bio, you aren't alone. Many brands struggle with this question as they create their Instagram marketing strategy. They know their Instagram bio is important — but they aren't quite sure how to optimise it to get conversions.
The good news: When you know what you need to include on your IG bio, it's not difficult to create one that's stellar. Keep reading to learn exactly what you need to include in your company's Instagram bio so you can attract the right kind of followers and turn them into loyal, committed customers.
Bio Elements To Help Achieve Your Conversion Goals
Before you can decide what to put on your Insta bio, you need to make sure you have a business Instagram account. This type of account has several extra features that are helpful to brands marketing themselves on Instagram — you can promote posts, track how they're performing, and more.
When your business account is set up, you can move on to creating your Instagram bio. You might be tempted to type out your slogan and leave it at that. But there's a lot more that goes into a good Instagram bio than you might think. From a unique selling point to your location to a call to action, it's essential to think carefully about every aspect of your bio so you can get as many conversions as possible. Here's what you need to put on your Instagram bio to achieve your conversion goals.
Unique Selling Point
A unique selling point helps people understand what's so special about your business. What does your company offer that other companies don't? That's the question a unique selling point aims to offer. USP's have been around since advertising campaigns in the 1940s, and they're the best way to differentiate your business and help you stand out in the marketplace.
Your USP is an integral part of your branding. This unique selling point isn't just a slogan — it's something that's woven into the very fabric of your business. Your USP meets a specific need that your customers have. This means that before you can define your USP, you need to understand the needs that your ideal customer has.
In order to create a strong USP, you also need to make your product or service sound attractive. Your USP will help you achieve conversions by making your product sound irresistible to the people who need it most.
When you have your USP in place, it will help define your marketing strategy and efforts, including the marketing work you do on social media platforms. Your unique selling point isn't meant to be a secret. You need to make your USP as widely visible as possible — and one great way to do this is by putting it in your Instagram bio.
Let's take a look at a few examples, starting with So Delicious Dairy Free. There are a lot of ice cream brands out there, but So Delicious immediately explains what sets this brand apart: Its products are dairy-free, thoughtfully crafted, and aim to nourish your soul, not just your body.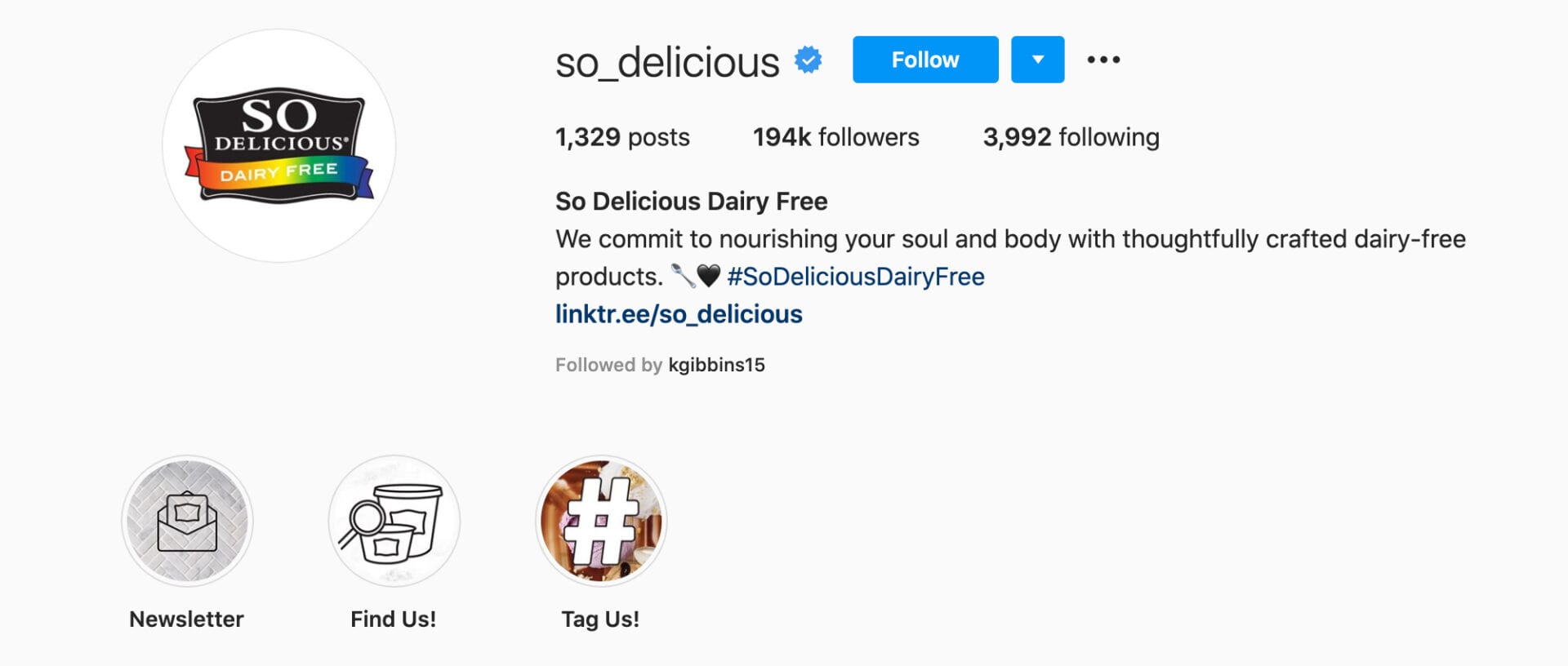 NYX Professional Makeup also includes its value proposition in its Instagram bio. The cosmetics brand explains that it's different from other makeup brands because it's committed to being cruelty-free and inclusive.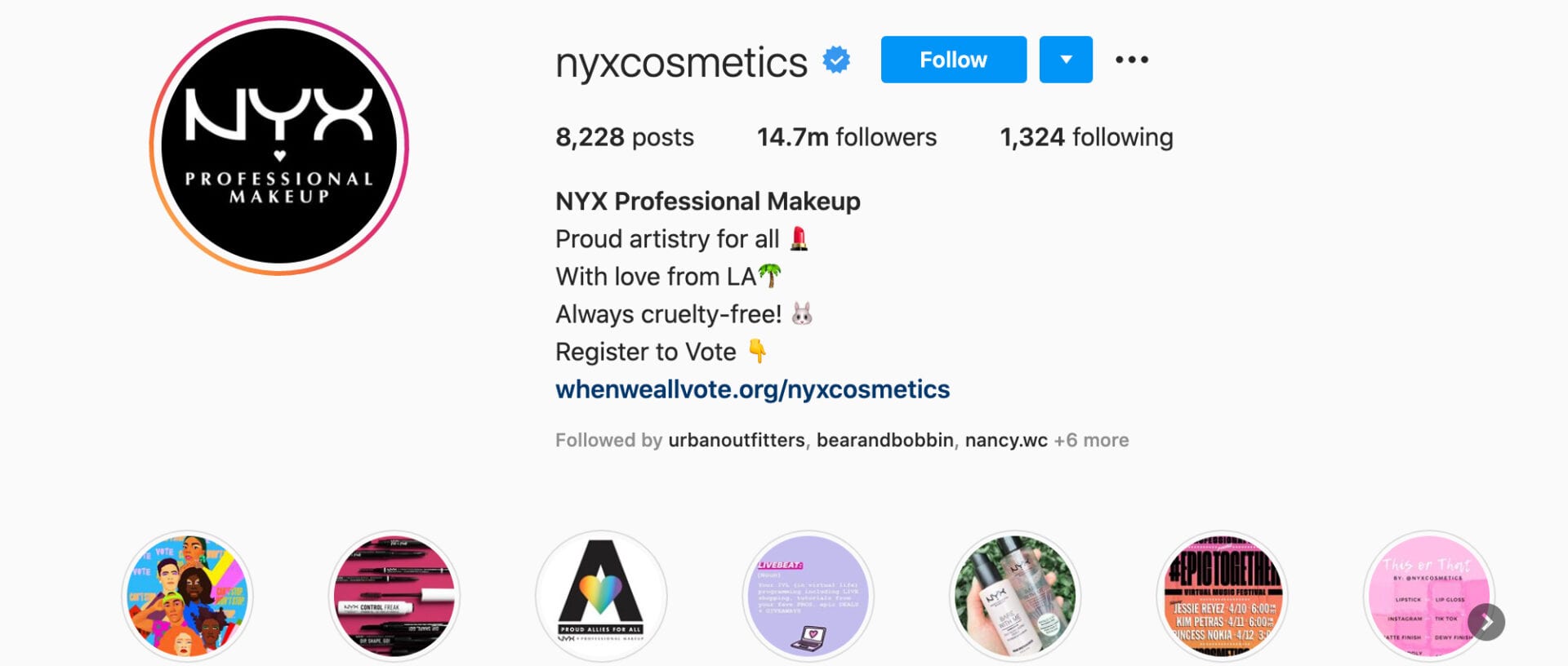 Finally, another brand that does a great job including its USP on Instagram is Petco. This pet store tells you two things — it's obsessed with pets and is committed to helping you care for your pets by not selling any food or treats that include artificial ingredients. For an audience of pet owners who want to give their pets the best care possible, this is a pretty convincing USP.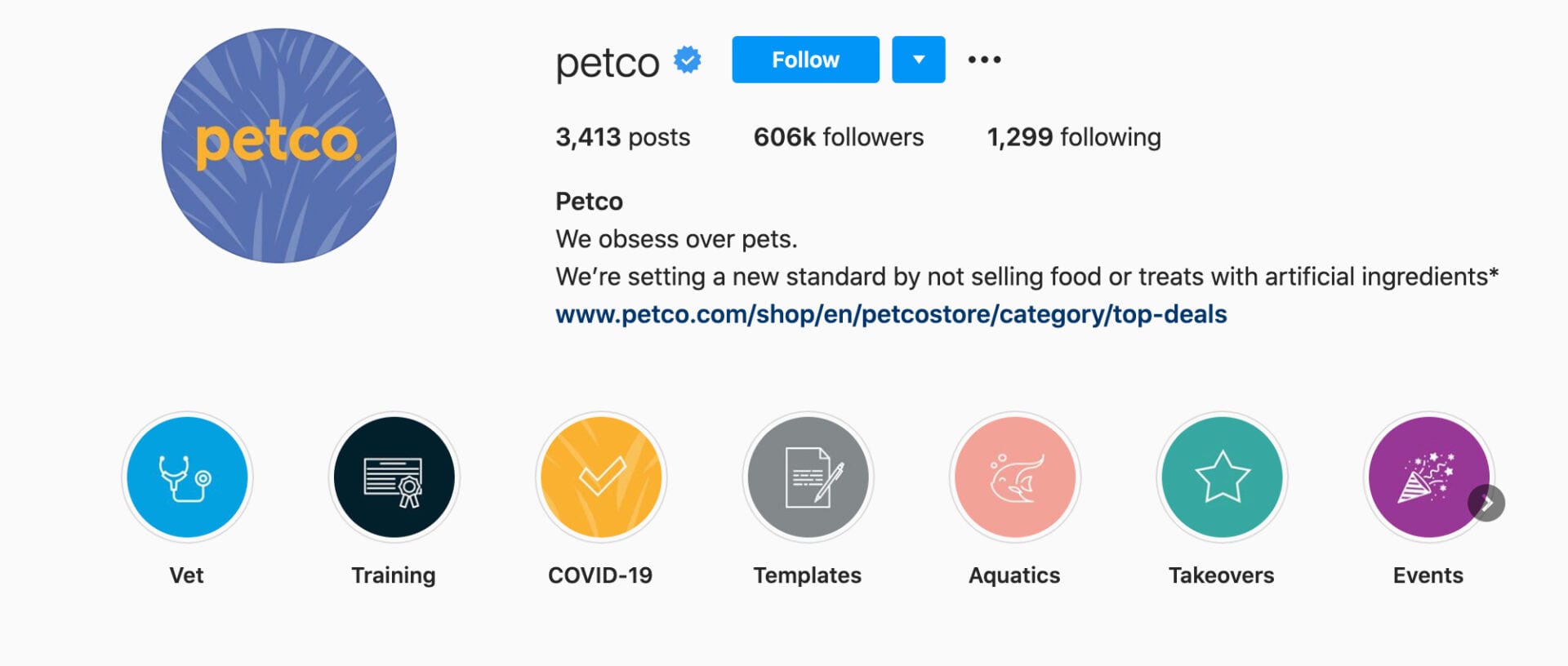 Location
Don't forget to include your location in your Instagram bio! This is especially important for brands that have physical stores. You want potential customers to know where you're located so they can stop by. And even if you don't have a physical store, you can still add your location. Service-area businesses (where employees travel to customers to provide them with services) can still benefit from having a general location in their bio, even if you need to be vaguer ('Chicago') versus listing a specific street address.
How do you add your location in your Instagram bio? Edit your profile and choose 'Contact options'. Then you can add the street address, city, and zip/post code of your business so your followers can see where you are on a map.
Even if you don't have a physical address to share, you can still indicate your address in your bio. For example, Ponce City Market makes sure that its customers will know where to go. This company includes its location in its bio two additional times beyond the official address.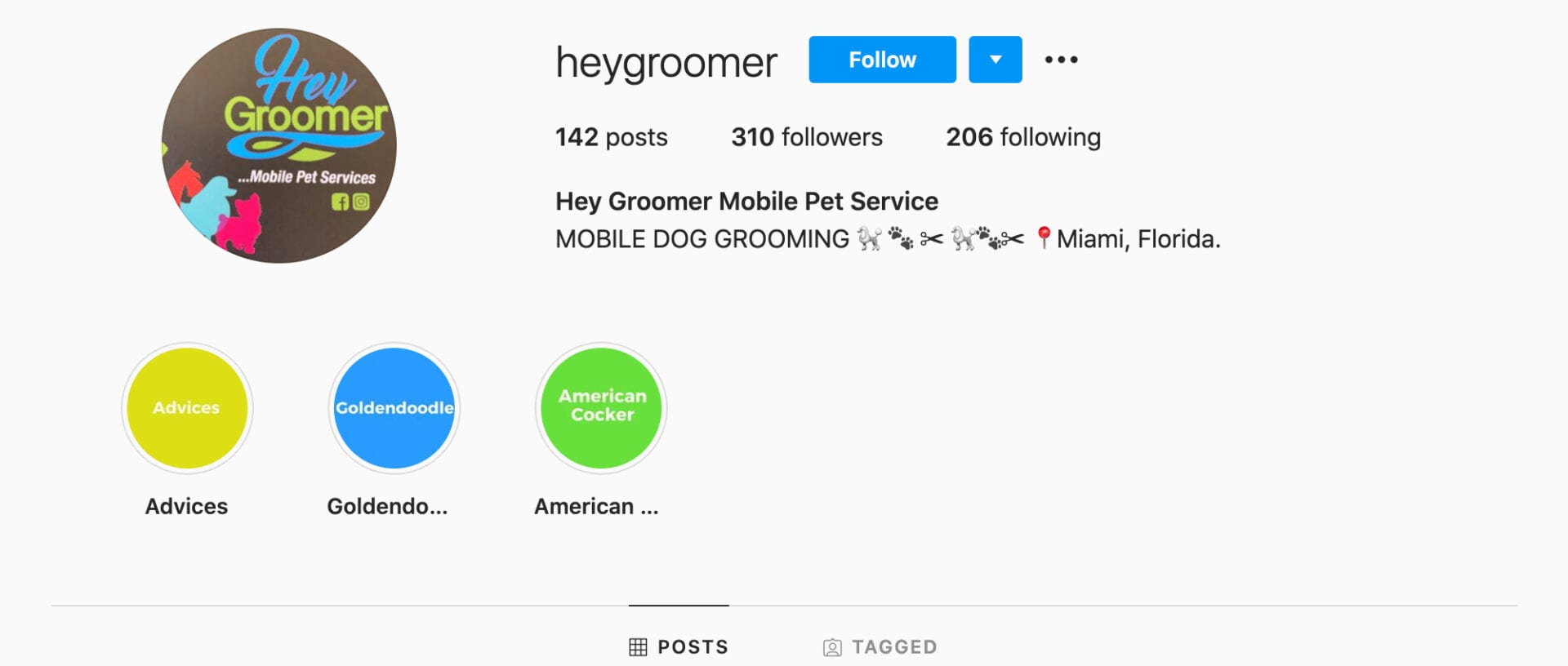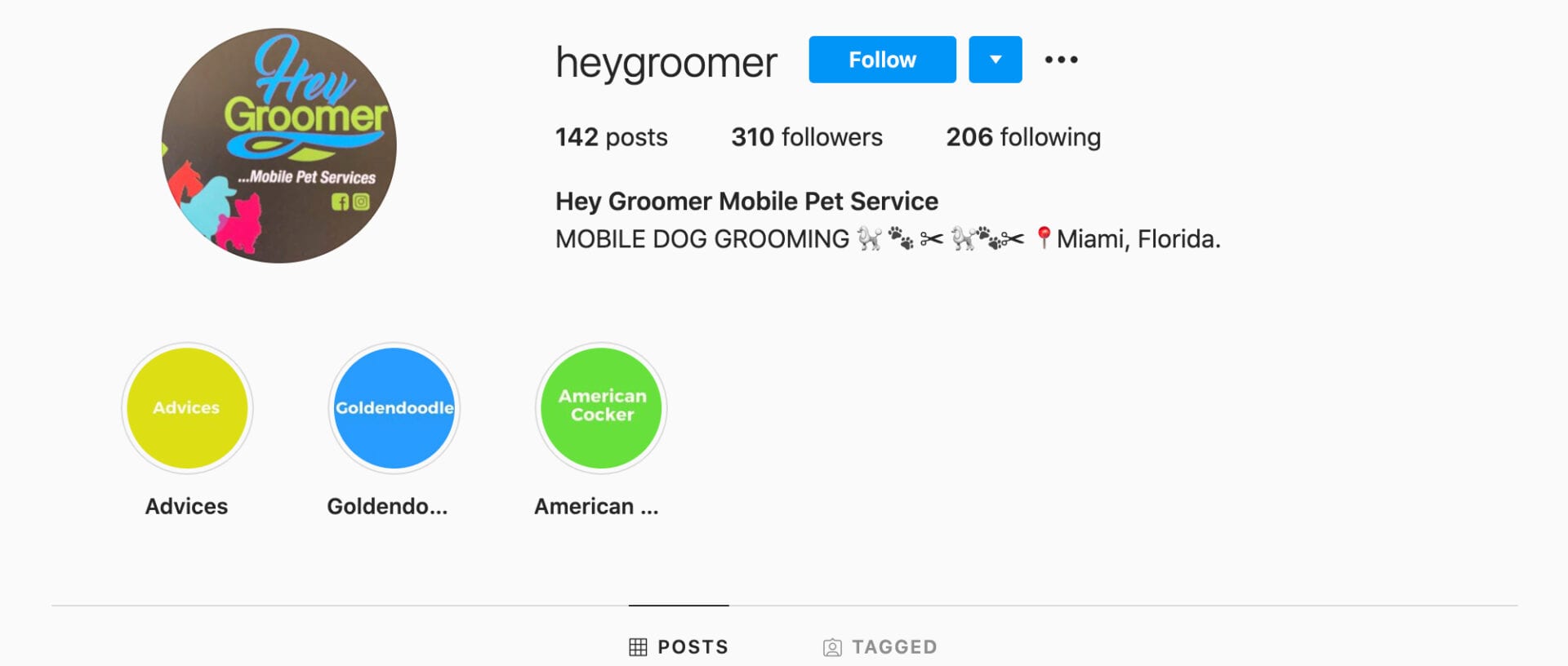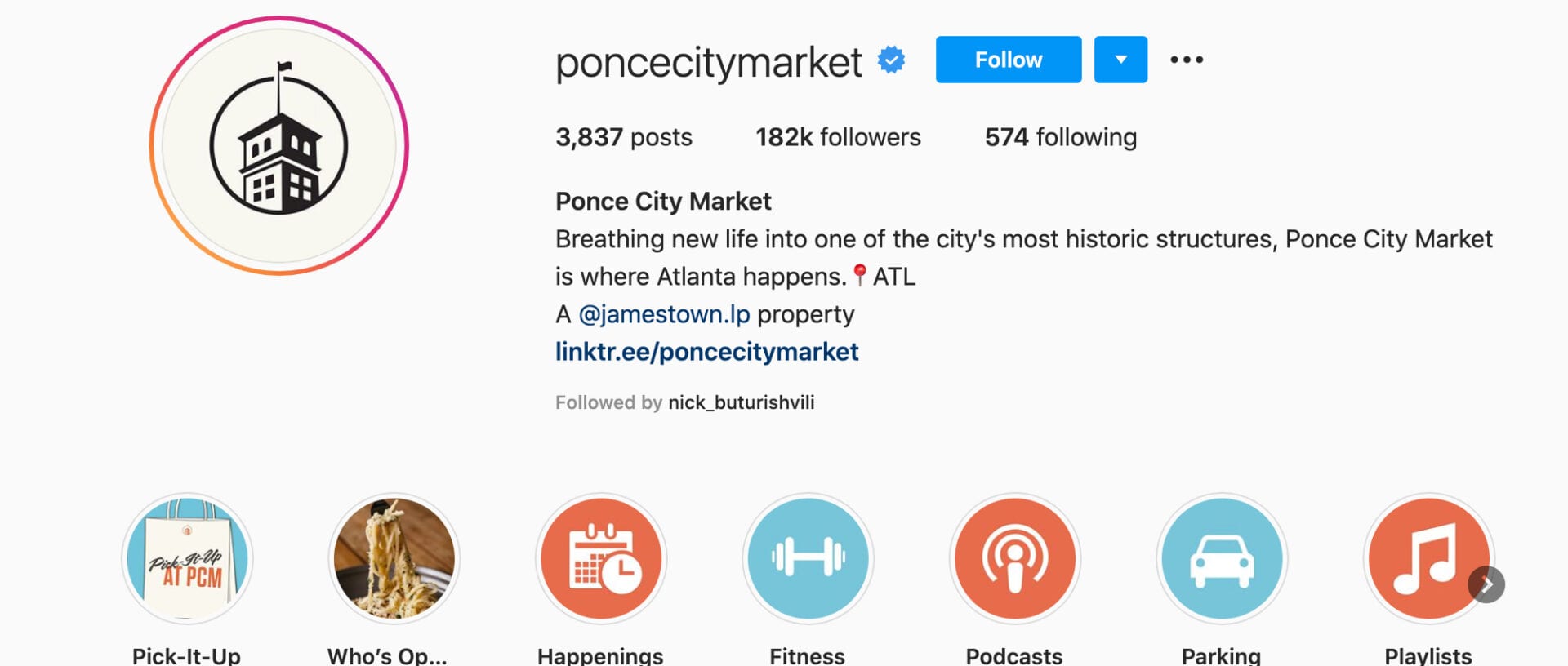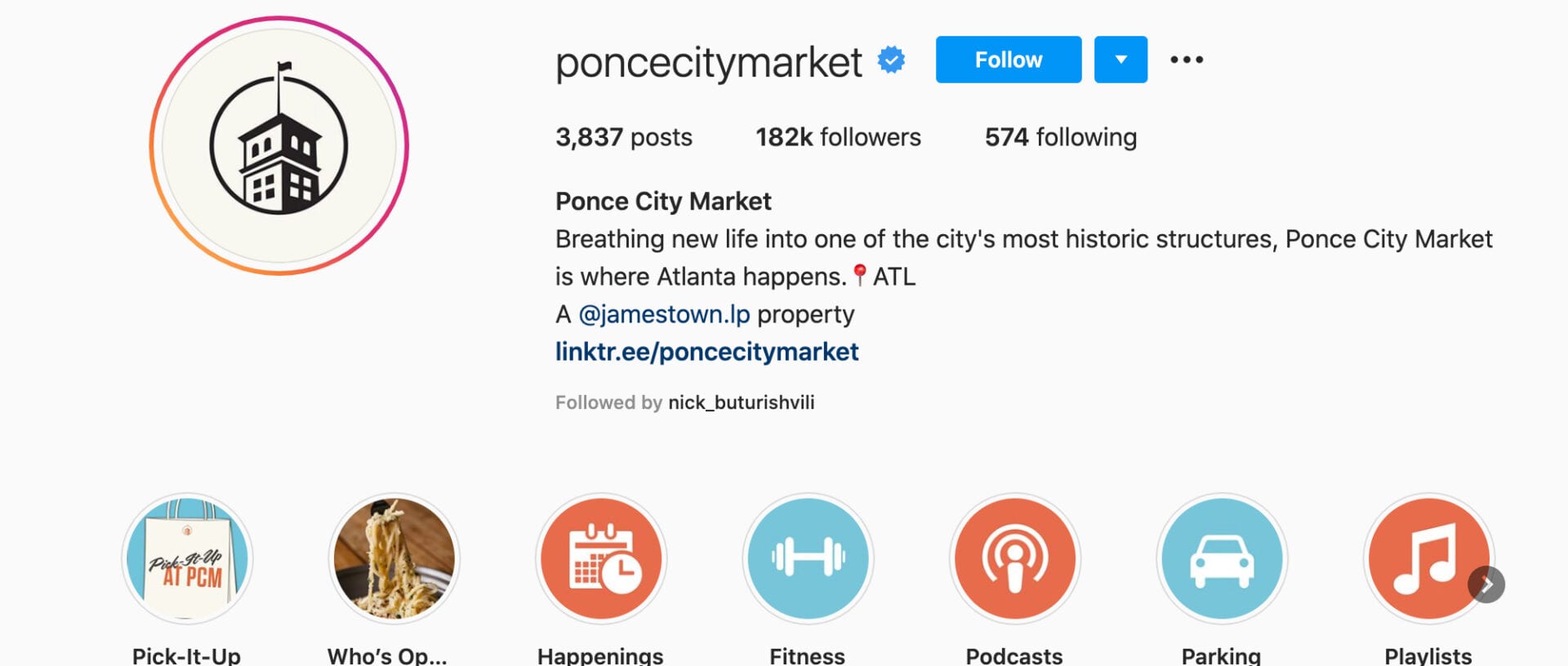 Here's another example. La Monarca Bakery has 12 locations in the Los Angeles area. So instead of including just one address, the brand explains in its bio that it has 12 locations open in L.A. Then customers can find the one nearest to them by visiting the bakery's website or shooting them a quick message.
Hey Groomer Mobile Pet Service is an example of a service-based business that includes its location in its Instagram bio. Since this mobile pet grooming service doesn't have a storefront, it simply includes 'Miami, Florida' in its bio so that people in that location know to reach out.
Including your location in your Instagram bio is a smart way to get more conversions. Potential customers will have no doubt about where you are and where you will go.
Call To Action
When it comes to what to put on your Insta bio, a call to action (or CTA) is extremely important and shouldn't be overlooked. CTA's in your Instagram bio typically appear as a short phrase or sentence asking readers to do something (most commonly, to tap the link in your bio). If your Instagram bio has all of the other elements to be successful but doesn't have a CTA, you're missing out on a valuable opportunity to drive website traffic and get more sales.
What does this CTA look like? The Parks Project includes a line in its bio that says 'Tap here to shop our Sunrise Collection', encouraging followers to click the link and browse products.
Pottery Barn Kids tells profile visitors to click the link to shop its feed, with a handy arrow pointing toward the place to click.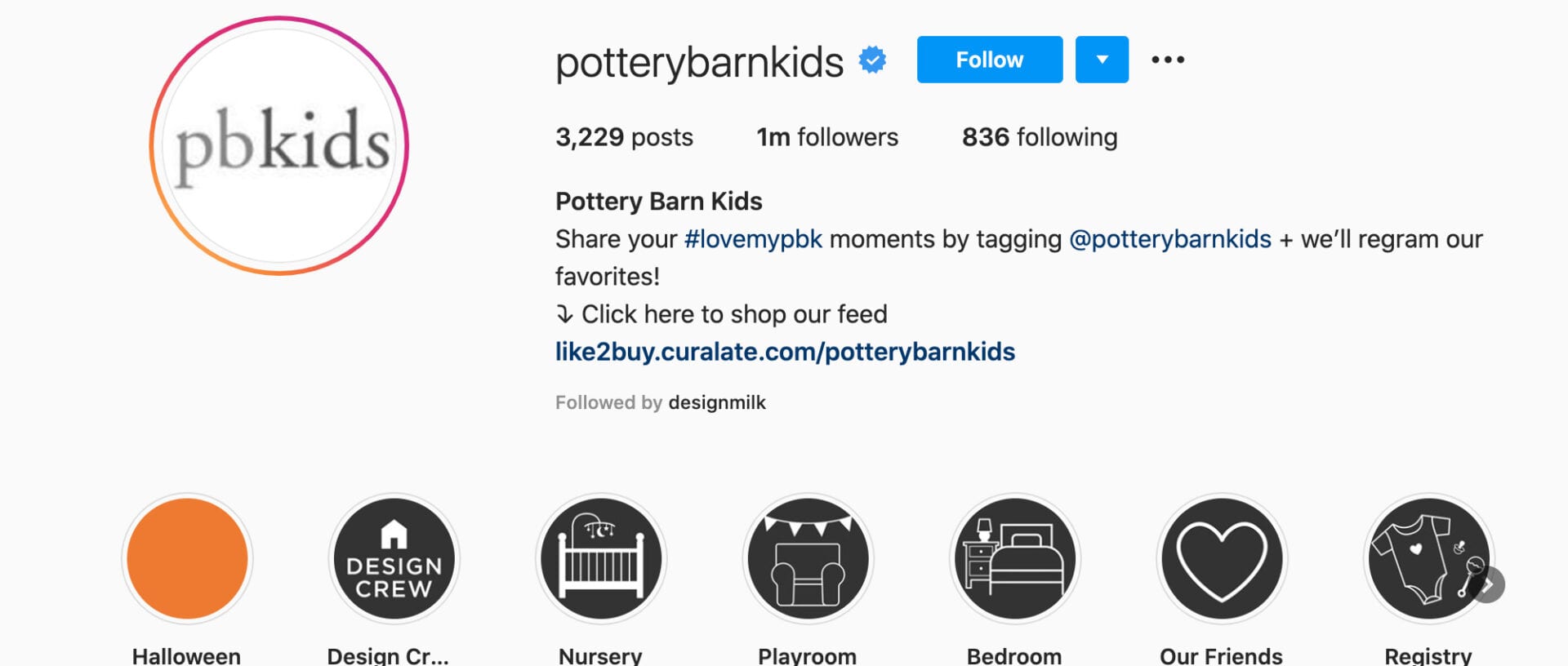 Your CTA doesn't always have to be explicit. If you're running out of space in your bio, try using a simple emoji to do the trick. Pressed Juicery indirectly asks Instagram users to click the link in its bio by using an emoji that points toward the link.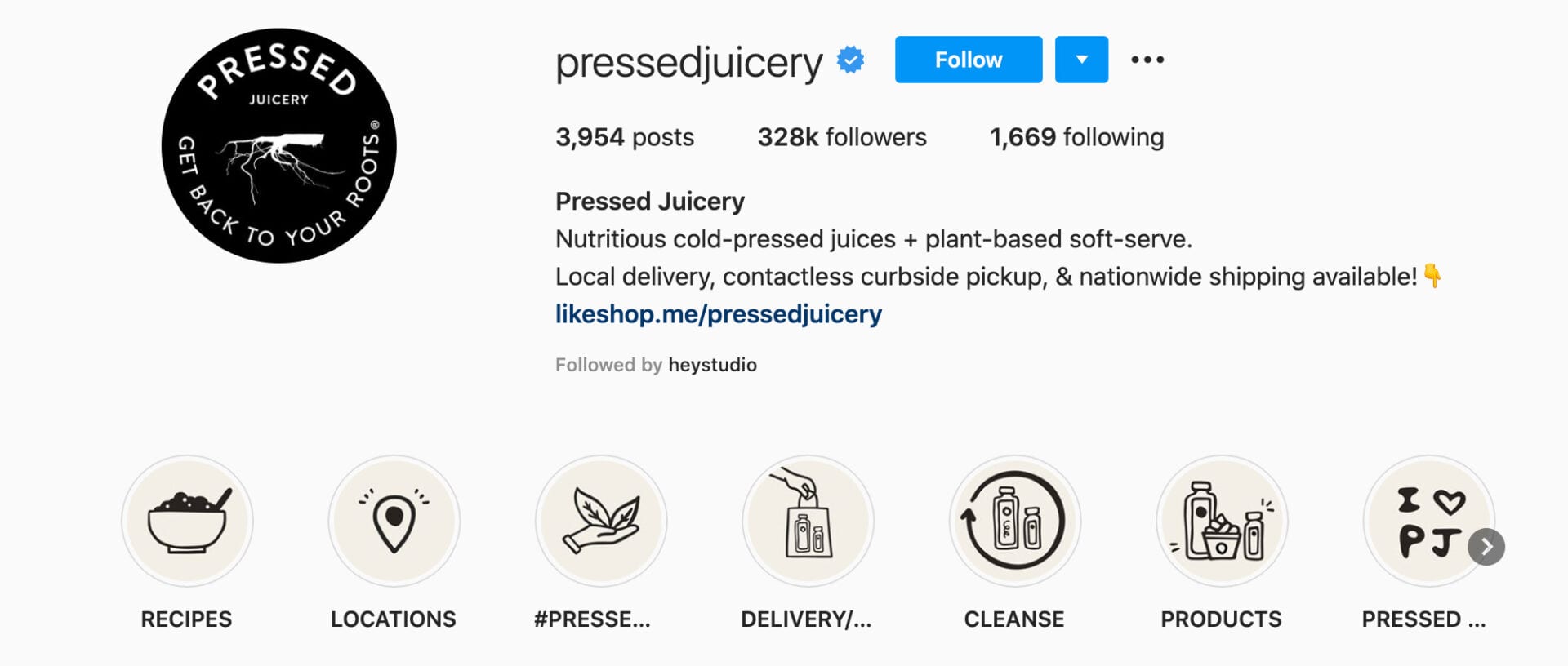 You can also think about your CTA more broadly. You don't have to ask people to click the link in your bio — if there's something else you'd like them to do, include a CTA for that. For example, Dermae asks users to tag #dermae for a chance to be featured on its account.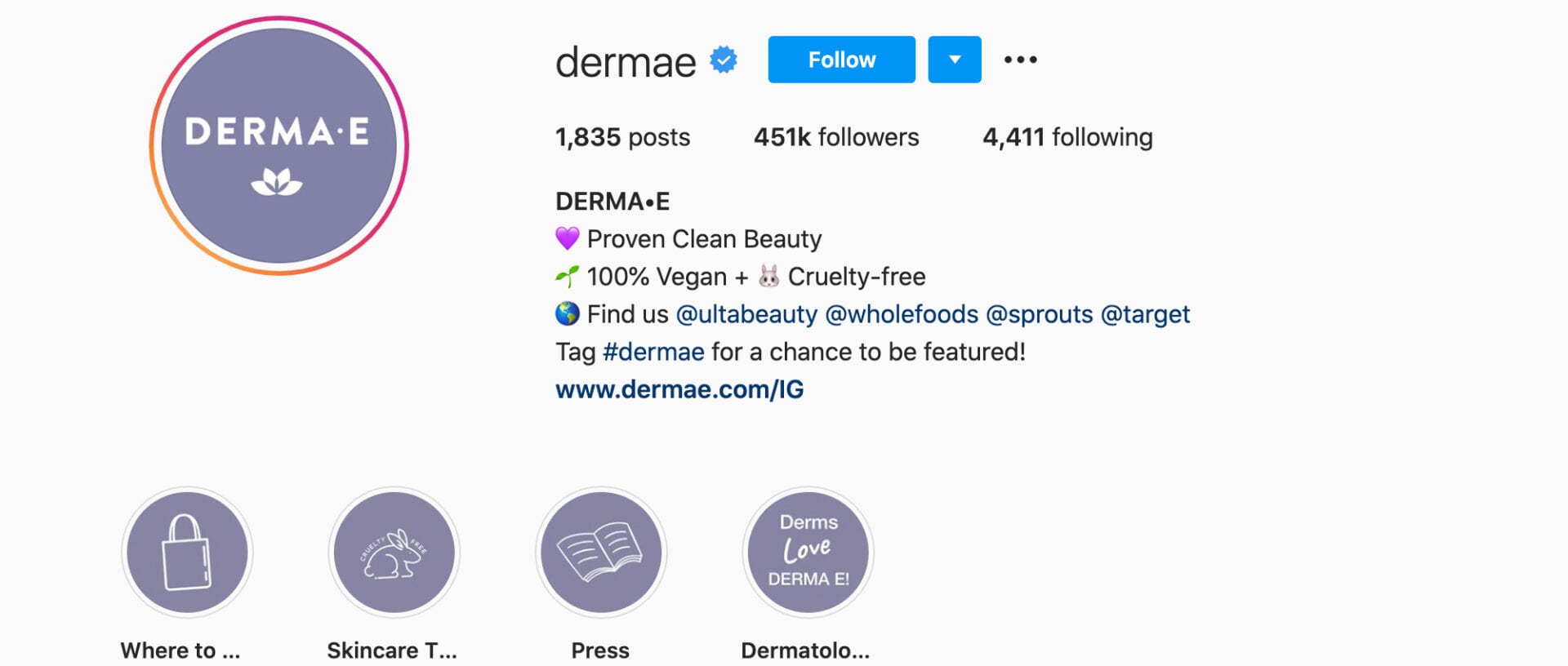 When it comes to what kind of CTA to include in your bio, the sky's the limit. This is an easy way to get more conversions from your Instagram marketing efforts.
Link
The final step to getting more conversions through Instagram is to include a link in your bio. Since your website is most likely where the conversions happen, you need to give your customers a way to get there.
Add a link to your website homepage, or if you have a specific product you're promoting, to a product page or your online shop. You can also use a link in bio tool to promote multiple pages at once. Using a link in bio tool is a smart way to get around Instagram's one-link-per-bio rule. With these tools, you can create a customised landing page that offers a list of links for your followers to choose from. You can choose which links to put at the top of your list and which links to prioritise by making that CTA button move to catch the eye.
Some tools alternatively give you the option to create a clickable Instagram grid so your followers can shop from your feed. Food brand Cappello's uses this type of tool, allowing Instagram users to shop each individual photo.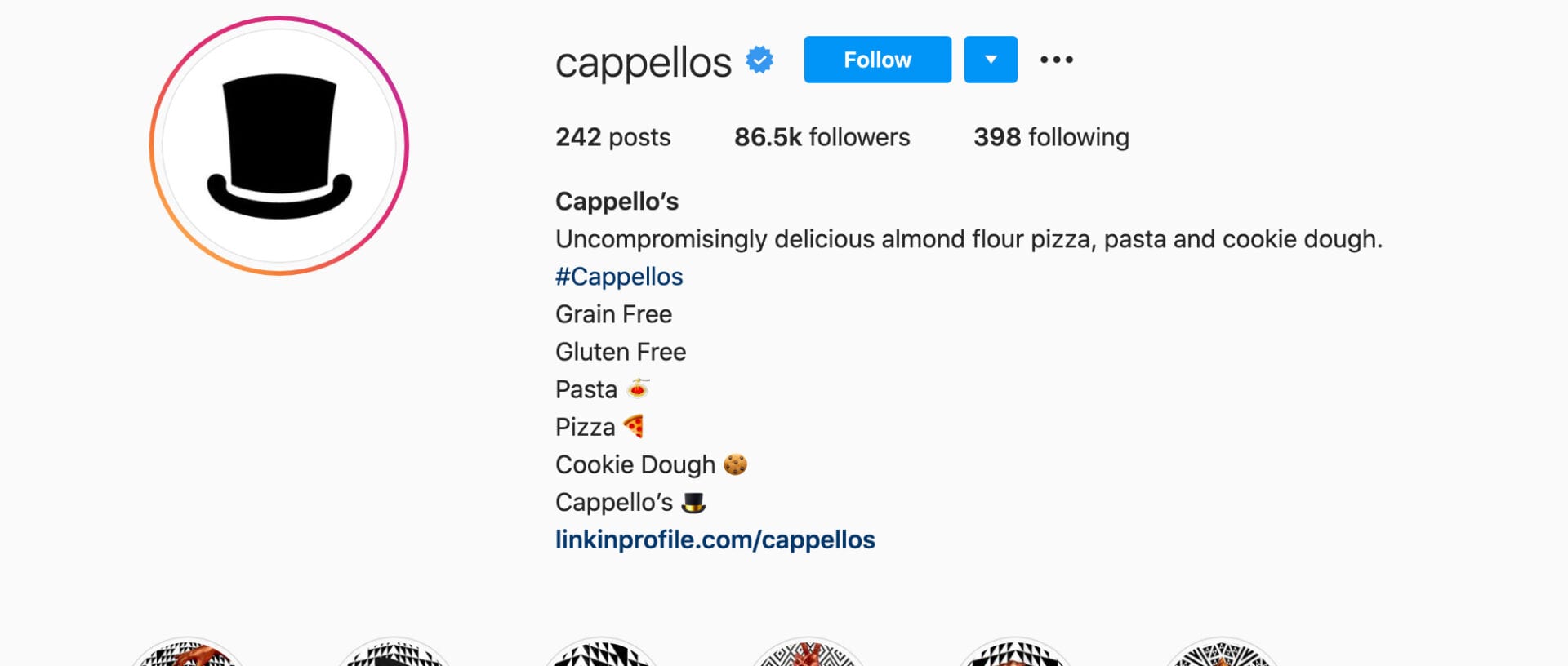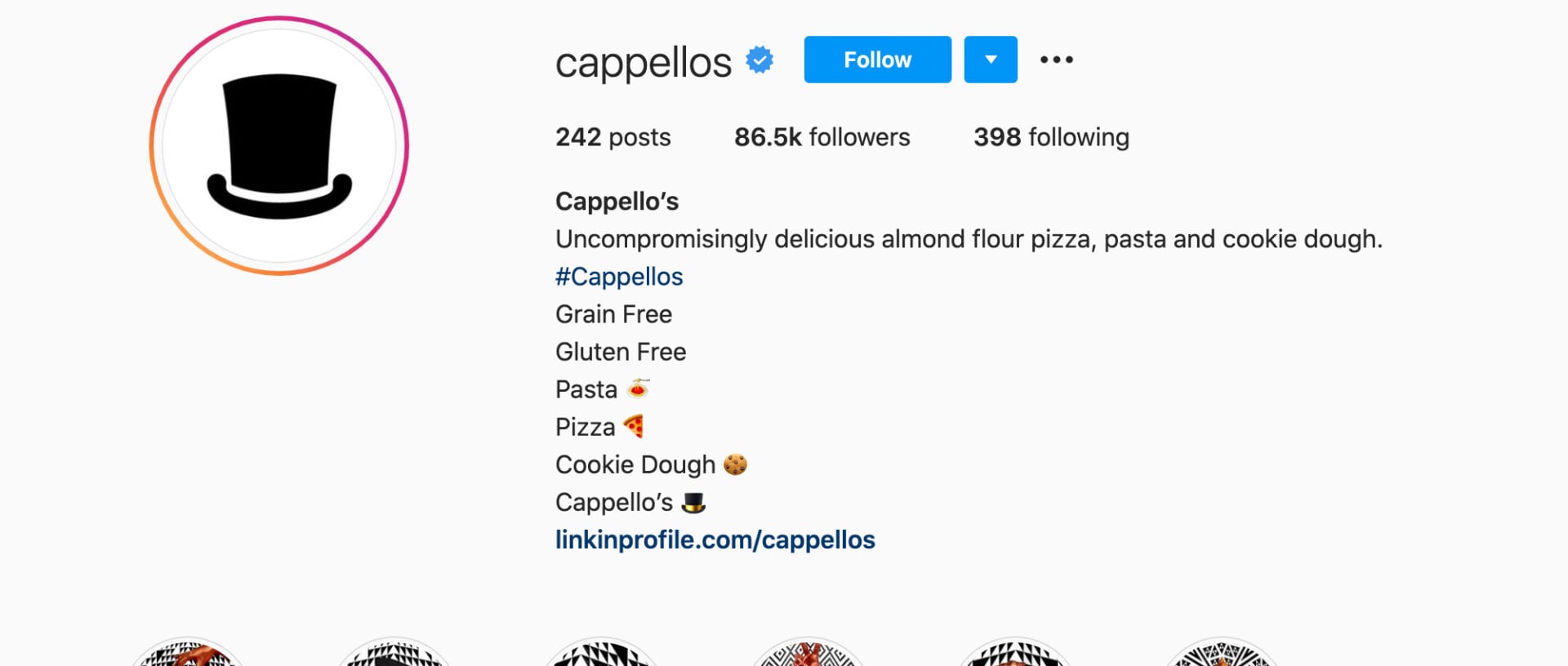 Link in bio tools are a smart way to get more conversions — you can promote multiple sales at the same time and give your customers access to every link they need.
Optimise Your Instagram Bio
Now that you know what to put on your Insta bio, it's time to create your own. Optimising your bio is one of the best ways to make a good impression on potential customers and encourage them to engage with your brand. Use these valuable tips to create an Instagram bio that will help you achieve your conversion goals!